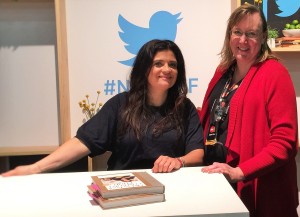 It's still amazing attending the NYC Wine and Food Festival, even this, our fourth year!  Such great products to taste this year, and we were fortunate enough to see some of the kings and queens of food in person.  Some highlights for me, as resident cookbook author "fan girl", included sitting only feet from some favorite celebrity chefs as they whipped up their culinary creations, and also attending a couple of books signings.
Even lovely and more down to Earth in person was Alex Guarnaschelli.  She not only signed a copy of her cookbook, but also fit in a quick chat.  I offered her my book, commenting that she probably didn't have time to read it, but she graciously and enthusiastically accepted.  Glad I picked her to get one of only 3 copies I self published and brought with me.  More on my cookbook soon…
Another special moment was sitting in on Geoffrey Zacharia's demo, where he answered all manner of questions from actual food related questions about balsamic vinegar for instance (he explained it is too sweet for dressing a salad)…..to some curve balls like where does he shop for his clothes?  He shared with the audience some personal gems like why he wears suits.  
His Dad always wore a suit he does, simple.  I say, good choice Geoffrey, you class up the stage!  He also shared with us that he grew up in an Armenian home where they never used anything store bought.  Even items like ketchup and mayonnaise were homemade by his family.  At the time, he thought that was normal, but over the years he found that it was actually unique.  He came to food as a career after pursuing some other avenues like economics.  I love to hear stories of how people identify their passions, a bit later in life, it gives us all some hope!  Not everyone knows right out of the gate what to pursue.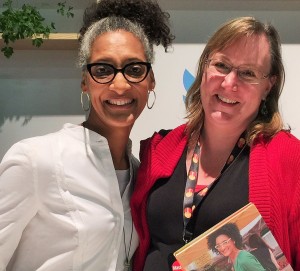 Carla Hall also shared a quick moment with me at a book signing, she explained that she was 30 when she attended the Culinary Institute.  She was just amazing, not only accepting the copy of my new cookbook (yup, she got one of the 3) but asking me to sign it!  What a great lady!  My last of three copies went to the NYC book sellers "Kitchen Arts & Letters" where I hope to have my own signing someday… 🙂
I had a close brush with fame as Rachel Ray passed right by me.  I didn't have her book signed, but of all the Chef royalty that was prese
nt, her cookbook themes most align with my own mission with this blog and my book.  She first focused on quick cooking (which I do in my book and this Blog) and then in this most recent, most personal book she focuses on traditional Italian family style cooking (the other favorite topic of my book and Blog).  She does it all so well, and always with a big smile.  I am a bit jealous she came up with the 30  minute meal concept though, I mean I have 3 kids, a full time job and a passion for recipes – shouldn't I have came up with that concept first?  I am lucky to have 30 minutes on any given weekday to whip up dinner for our family of five!  Ah, at least she forged the path for the rest of us, I thank her for that.
Some of my favorite tastes at the festival were the a gorgeous crumble of chocolate cake with pecan ice cream, heaven on a plate, provided by a restaurant group in South Carolina unfortunately, too far from where I live, or I would be running to buy more!  The owners establishments are Magnolias, Blossom and Cypress.  If you live near South Carolina, or are visiting, I suggest you visit.  Also enjoyed brie with cherry jam on a cracker, and nutella crepes at the Shop Rite stand (way to go Shop rite!).  My husband's favorite was eating lovely soft cheeses, including a very mellow blue cheese, at a booth called Aperitif, which is sponsored partially by the French Ministry of Agriculture and the rest by partners such as wine producers  
They setup an area for all of us to enjoy a French sort of happy hour, called Aperitif, with amazing food and drink.  They explained that last year they hosted simultaneous events in a dozen places all over the world, and this year during the NYC WFF there was also an event going on in Dubai.
Much more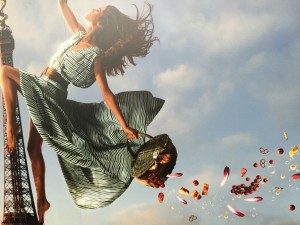 prevalent than food samples at the festival this year, were a wide variety of wine, cocktails and assorted beverages.
Unfortunately for me, my husband found the section of hard liquor right as we walked in.  We had been on line for 30 minutes, and our first stop was the rest rooms, that happened to be near the hard liquor section.  That kind of set the stage for him to have a fabulous day while I learned more about food stars.
One of the items that stood out for me in the hard booze area, was a liquor that actually inspired the name of a color, chartreuse.  It was interesting, not sweet which is usually what I like, but it had a very unique flavor and was herbal, yet very smooth.  Produced by Monks, it makes me wonder…why do Monks produce alcohol?  Well, I
was told that originally, alcohol was a part of medicine of the day, and that is when the monks started producing alcohol. The Monks make phenomenal Belgian ale (my favorite being Leffe) and now they also make this hipster liquor favorite, so I am glad they started down this path.
On the sweet side, I really enjoyed a rich and creamy rum called Krin
gle, which was made to taste like a famous Wisconsin pastry of the same name.  I have never had a
Kringle before, but now I want one!   Also in the sweet arena was a coconut rum by Don Q, that the crafty ladies at the booth mixed with some cranberry juice and I believe pineapple juice.  That made for a really unique, sweet cocktail I would definitely have again.  Two years running, the clear winner for tastiest, sweetest shot was Dorda Double Chocolate liquor.  Smooth, very rich and decadent!
Favorite wine again this year goes to Remidas, one of my best booths last year as well.  I mean look at the handsome smiling face below, who could resist a happy Italian who produces wine?  He definitely adds love! This wine expert, and gave me a sample of Soave, which was amazing.  I also plan to try creating some recipes with their red Corvina, keep you posted.  Also enjoyed Chloe wine (pictured above) both the taste and packaging are striking.  Enjoyed Epica wine which has a mellow Cabernet Savignon I would highly recommend.
Another top sweet drink for me was from Figenza, a Mediterranean Fig Flavored Vodka. What a surprisingly fruity, swee
t and elegant flavor.  Most unique kitchen product
goes to Kristin Sollenne who has a line of sexy aprons.  We all need a sexy apron in our arsenal, or how else can we truly be the domestic divas we were meant to be?