We Have Lift Off!  August-September-October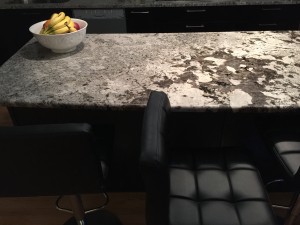 Since last we spoke, so much has changed at our house!  I literally walk into my home at night and whisper in amazement "I'm not worthy!"  It's like I stumbled into the set of one of those rich housewife shows by accident.  How did this happen?  Let's rewind…
After the initial demo and destruction there followed fits and starts of rebuilding into a space completely different than the original.  A 31 foot beam was put into our home through a hole in the side of our house, bazaar, so that we could pull both walls down and the house would be properly supported.  The guys were amazing, they patched up the hole and you would have never known it was even there.  But honestly, I hated the metal siding from the 50s anyway, but more on that later.  Once the beam was in place, supports were checked, holes showed up in the basement and in our linen closet, and the ugly construction started to seep into most rooms.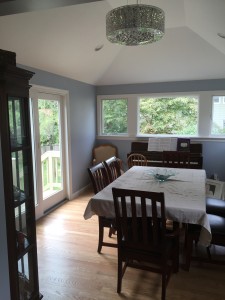 But then, after roughing the electrical, the plumbing and creation of a small deck leading out from our dining room was created we could have another set of inspections.  Once we got past the initial plumbi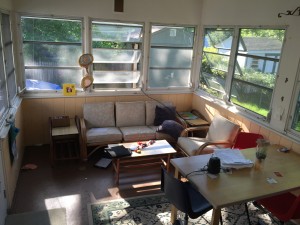 ng, building and electrical inspections – the really fun stuff began, the rebuilde (see the porch transformed into a dining room to the right!).
One thing that I found very pleasantly surprising is how much I enjoyed the workers that Ken (of Apell Woodworking) brought into our house.  First there was the demo crew who were a lovely bunch of guys, then 'Bob the Builder' worked his carpentry magic (everyday my husband was impressed by his perfectionism and creativity, and he is no slouch at woodworking himself).  Then one day "poof!" Bob would be on to the next job and in comes the sheet rock guy, then Lou and Luis the spackling crew, then James and his crew to get the cabinetry in.  I started feeling like every other week our family was getting broken up with by our latest workers, we all got to know them and like them and then they would 'dump' us for the next job.  When you have people in your house all day for a couple of weeks, I figure they are honorary family members, especially important to get to know them when you have kids in the house.  So again, we were very blessed that the guys were honest, hardworking family men who worked on our renovation, and we were able to trust our house left in their hands and go to work day after day.  Trust was the first item on the list, second was good workmanship, and third was that they kept the site clean and safe for the kids.  They got A+ on all fronts.
Extras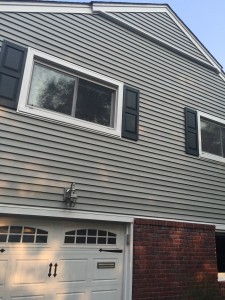 It was so exciting once the sheet rock was up, and cabinets and appliances were scheduled to be delivered.  Things really started turning around.  But during that time of great transformation, our work order kind of expanded.  I hear this happens all the time.  Once you start shining up one part of your house, the other rooms look that much more old and dull.  One thing that I couldn't keep was the metal siding from the 50s.  How could the inside of our house be so sleek and modern and the outside cry out 1953?  After much debate with my husband, we finally came together and decided to side the whole house, instead of just the new porch (which would never have been able to match the old metal siding anyway).  And once Steve agreed to side the house, he felt it was the right time to replace the first story windows.  To Ken's credit, the pricing was lower than we could have ever found on our own for both the siding and the windows, so it was the right thing to do!
Also, this great group of guys jumped in and helped us tweak our home by fixing a closet door in the living room, removing a big old built in cabinet from our family room and even building a gorgeous custom fireplace with some "found" granite we bought from another client for a song.  We even were given a mud room someone was throwing out, to put into our garage (if you have a few kids you will share my excitement over the reality of having a place to let the kids dump their wet shoes, coats and backpacks – other than your living room!)  
Big thanks to James for all the help with these last minute extras, when he left Steve and I were both sad to see him go, he was funny and did a great job.  We did draw the line on the extras when it came to the plumbing.  Once our walls were opened up and we saw how old the pipes seemed, we thought we would upgrade all the bathroom pipes.  The problem was, if you start something like that, all the tiles will start falling down and then you have to renovate the bathrooms too!  We could handle a little job here or there for $500 each or so, but to face gutting entire bathrooms would be tens of thousands, forget it!  I decided to keep my bathrooms as the museums they are, for as long as they will work.  I would rather have a functional kitchen and open entertaining space than a luxurious bathroom any day!
Lessons Learned – Stick to your Guns!
Some warnings I can provide to others, after this whole experience, is that you should definitely try to get the best prices you can, but stick to people you have referrals for.  The few occasions we went off on our own, we did have some regrets.  Sometimes people promise you the world, and do not come through in the end.  Whenever we stuck with trades people recommended to us by our contractor, or sourced from stores we were sent to by the guys in the trades, it always worked out well.
Also, remember that the cabinets and the counter tops are 2 big important decision, and ones you will live with for a long time.  I switched my granite choice to a white granite that had a tone of black, grey and sparkle in it, with loads of variation.  It turned out beautifully!  But I took my time on that choice, visiting a few granite yards before putting money down on something (even though they all want a deposit right away, don't do it!)  And when we worked on the layout of the cabinets, I was determined to build a desk under the window between a wall and the refrigerator.  My fantastic cabinet guy (Roman of Brandywine) tried to talk me out of it….glad I stuck to my guns because that is my favorite little blogging nook, and the kids use it for homework too!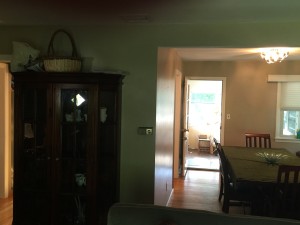 Another lesson I learned is that if you have been blessed with some sense for design (you will know it if you have it) you can trust your initial instincts.  I started out, wanting a color called ethereal blue on the walls, than I wasn't sure so I bought 9 different blues (small paint cans only run you $3 or $4 each) and put the colors on a white w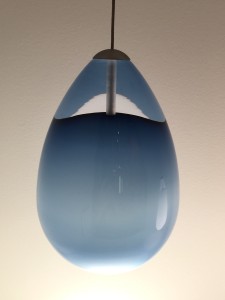 all and looked at them in the day and the night – and fell right back in love with the ethereal blue!  I am not saying it is bad to get some choices up on a white wall, it was a great exercise, however, my initial wall color felt right from the start and was the right one for the space.  See photo to the left, that was what you saw when you walked into the front door before the reno, and below is what you see now.  I moved away from the dark greens into a calming and light blue to brighten up the space, and kept to a bright shiny back splash to play off the dark cabinets.
I chose pendant lights in a grey blue early on, and never found anything better than those, and built my other design choices around those lights.  I also had an early idea for glass and stainless back splash, that even after a few trips to tile stores over a few weeks, I ended up right back to that idea and it all worked out great!  It never hurts to shop around for both style and deals, but listen to that little designer's intuition in your gut and trust it, I did and am very happy with the results!  (Unfortunately, I never really said goodbye to the old kitchen, as Steve has recycled it to use all the cabinets in his garage….really?  Do I have to see it every day?  He is very happy with the way he can keep it organized now anyway.)
Living the Dream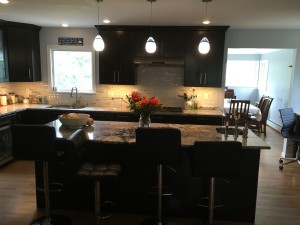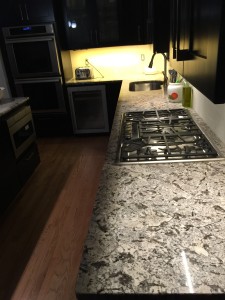 It is now approaching Halloween, and as I finish the final edit on my first cookbook, I am proud that I completed the first 160 recipes on this blog and a full cookbook in a kitchen that had really only one functioning counter.  At the same time, I can now breath a sigh of relief, and enjoy this paradise of a kitchen and appreciate it all the more.  We have already hosted a kids' birthday party and a big neighborhood "survived the reno" party, and we are all starting to feel at home in this fabulous new space.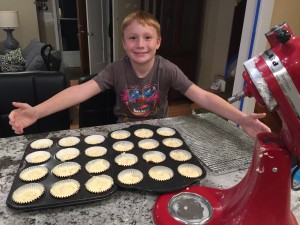 I appreciate every extra cabinet drawer and cabinet shelf, I love that the fridge makes filtered water and ice cubes, enjoy sharing meals in our airy and light dining room, and I feel like the luckiest cook/baker in the world to now have 5 b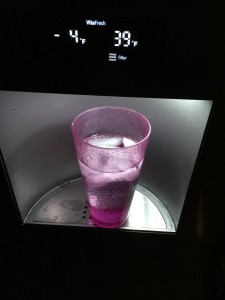 urners and 2 ovens.  Just last night my daughter commented how we were working all 5 burners at once, and it made me smile!  The finished product was definitely worth the journey –
I can't wait to get down and dirty making my 12 kinds of Christmas cookies on my 9 foot island in the coming weeks.
Someone pinch me, cause I am living the dream!