A couple of years ago I found this wonderful version of the old Thanksgiving classic sweet potato side dish (you know the one with the mini-marshmallows on top?  I never made it always thinking it tacky, but it gets points for being classic Americana).  Paul Dean had an online recipe from her Aunt Peggy's Sweet Potato Souffle.  It was, and is amazing!
I have only updated a few things to boost some of the nutrition (added walnuts and I use 3 large sweet potatoes instead of small ones, to get more of these super foods into the final product, and I tend to always add some oats to a crumble for extra fiber).  Although this is definitely a dessert, it is still a vehicle to get some healthy food into the kids.
The final product is crunchy and smooth with a candy top and sweet fluffy bottom.   Served hot with whipped cream it is one of the best desserts ever (and I say that as a devout choco-holic!)
Ingredients for souffle
3 large sweet potatoes
1 cup granulated sugar
3 eggs, slightly beaten
1/2 cup milk (I use whole milk)
8 tbsp unsalted butter melted
1 tbsp vanilla
1/2 tsp salt
Ingredients for the topping
1 cup packed dark brown sugar
4 tbsps unsalted butter, cubed at room temperature
1/2 cup self-rising cake flour
1/4 cup quick oats
1/2 cup pecans and 1/2 cup walnuts (chopped and roasted)
Clean and add fork holes in the sweet potatoes, then put them in the center of an oven set to 375 degrees.  Bake until soft, at least an hour.  Let them cool, then peel them and put them into a large bowl and mash them with a hand masher.
Secret:  Once I pulled the sweet potatoes from the oven too early and thought I was sunk…they were hard in the middle and would never mash properly.  I took the skins off and microwaved them for about 5 minutes and they became soft enough to utilize.  Cooking tragedy averted!
Preheat oven to 400 degrees.  Lightly butter an 8 inch square lasagna dish.   add the remaining ingredients for the souffle into the large bowl with the mashed sweet potatoes.  Combine with a handheld blender until combined and smooth.  Pour into the pan.
Chop your nuts, then place them into the oven for 3 minutes (since it is at 400 degrees, make sure you don't burn the nuts or they will go bitter).  Cool the nuts while you prepare the rest of the topping.
Put the brown sugar, butter, flour and oats in a medium bowl.  Add in the cooled nuts and with your hands combine all the ingredients together.
Tip:  I find that for certain food my hands are the best tools I have.  For example, I use my hands to mix meatloaf mix, meatball mix and whenever I need to get a crumble topping together.  How could you possibly mash everything together as efficiently with a spoon or spatula?
Crumble the topping evenly over the potato souffle and bake in the center of the oven for 20 to 25 minutes.  You will see it bubbling around the edges and the topping will be browned once it is ready.  Serve with homemade whipped cream or store bought whipped cream, it is all about contrast.  You want the hot against the cold, the smooth against the crunchy.  Wonderful!
I have made the souffle and covered it with plastic wrap, keeping it in the fridge overnight.  The next day I just uncovered the souffle and then followed the same heating directions as above.  This can be helpful for your holiday time management, having this be a make ahead dessert, just leave a little room in the oven to warm it while everyone finishes dinner or when you start brewing coffee.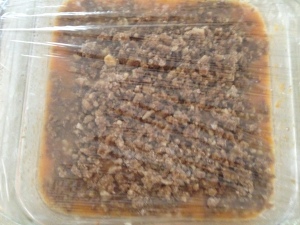 Perfect as a part of the Thanksgiving dessert table, or anytime you want a hot satisfying dessert that includes some super food ingredients (sweet potatoes and walnuts)!