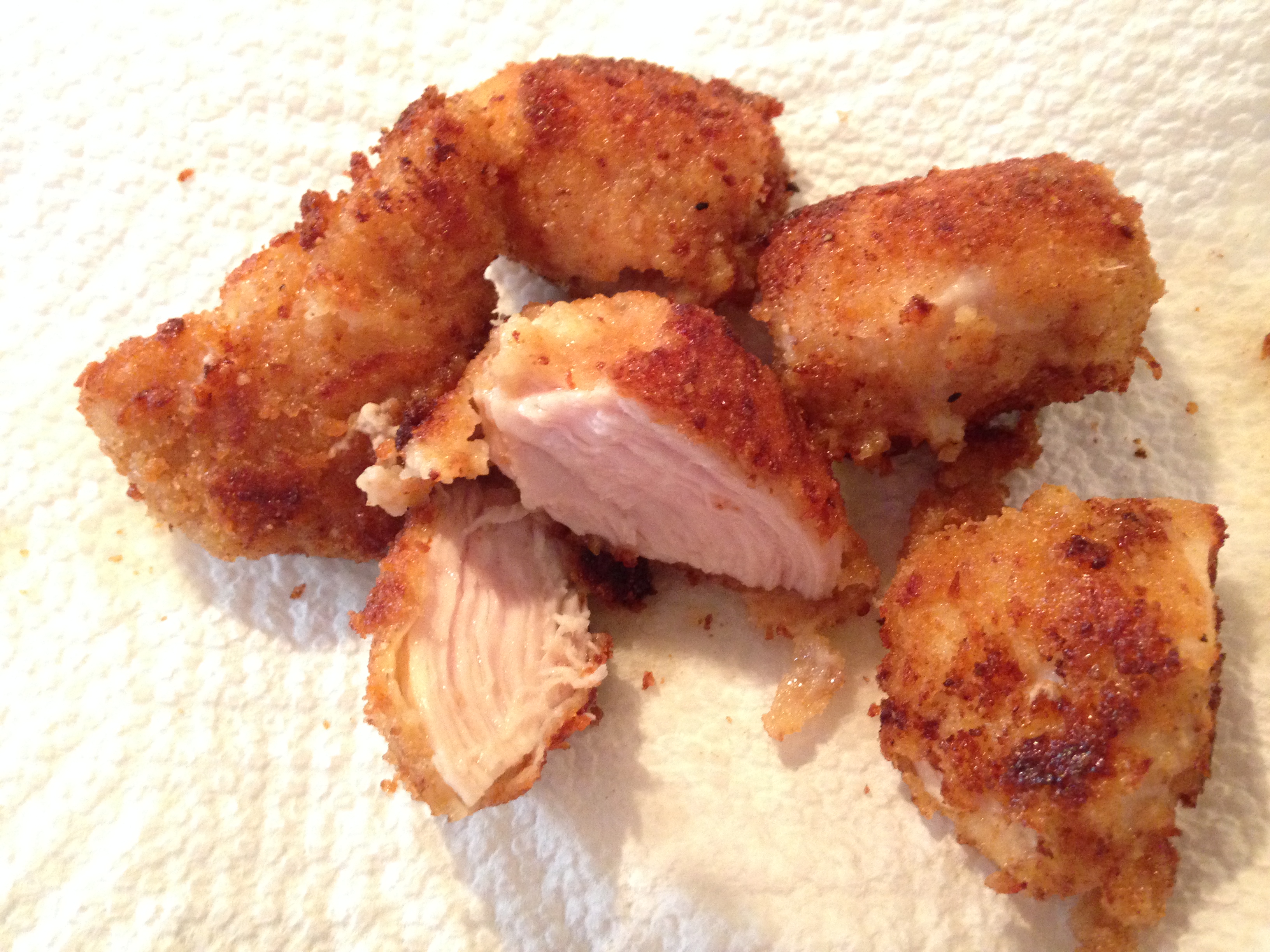 Fun Weekend Cooking!
I have one child who eats his way around the globe, and 2 others that, sad to say are "macaroni and cheese kids".  They stick to bland foods and would eat processed foods if I wasn't on duty to stop them.  Since they love chicken fingers and nuggets and the like, even those shaped like dinosaurs heaven forbid, I was motivated to make my own version with fresh ingredients and have it taste even better (not hard when considering the particle board those others can be made from).
With this recipe, I succeeded.  Now it is just about finding the time, I would rate this more of a weekend event than a mid-week meal creation.  This recipe is in the "By Kids 4 Kids" section because the kids all love the outcome and are able to assist in the coating of the nuggets, which makes it go faster.
Ingredient list:
1 1/2 pounds of boneless, skinless chicken breasts (the tenders have an annoying fat string running right down the center – avoid those)
3/4 cup flour
1 tsp salt
1/2 tsp lemon pepper seasoning
1/2 tsp paprika
2 eggs
1 tablespoon honey
3/4  cup plain bread crumbs
1/2 cup shredded Gruyere, Swiss or Parmesan cheese
Secret:  I tested this with Panko bread crumbs and it didn't work as well as plain old bread crumbs.  Need to make sure the cheese is very fine so it mixes in well with the bread crumbs, could achieve this by mixing the cheese and the bread crumbs in a mini-prep Cuisinart or just make sure and use a fine setting on a box grater for the cheese.
2 – 4 tablespoons butter
2-4 tablespoon canola oil
Fresh ground salt to taste
Clean and trim the breasts. Dry them, then cut them into large nugget pieces (think a nice mouthful for a kid).  Get out 3 flat pasta bowls or cake pans and fill this way:
Bowl # 1:  Whisk the flour with the salt, lemon pepper and paprika
Bowl # 2:  Beat the honey into the eggs vigorously
Bowl # 3:  Mix the breadcrumbs with the cheese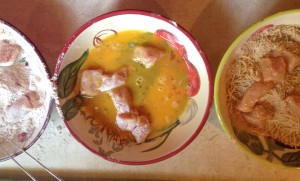 One at a time dip into each bowl and then set the nuggets on a dinner plate until all are coated and ready to cook.
Tip:  To avoid the crust from falling off during cooking (and who wants a nugget without a coating?) when you cover the chicken in the flour, make sure you shake any excess off before you dip it into the egg!
Heat a large skillet with the 2 tbsp butter and 2 tbsp oil on medium-high heat until the butter starts to bubble but is not browning.
Tip:  Either have your one hand the "wet" hand used for dipping into the egg mixture and the other for dipping into the "dry" bowls, or assign one child to wet and the other to dry.
Place the nuggets all at once into the skillet (do not overcrowd, but instead do them in two batches if they don't fit nicely in the pan – after the first batch I clean out the pan and start with a fresh 2 tbsp of butter and 2 tbsp of oil).
Tip:  If the pan looks too dry at any point, I swirl some more oil around the very outside top rim of the pan, so it will heat as it gets closer to the nuggets.  Cold oil will just soak into the food and taste greasy!
Cook about 4-5 minutes on the first side over med-high heat, until it is browned (try not to move it at all until it is browned, the meat will come off the pan easily once it is actually browned on that side and ready to be flipped) and another 3 minutes on the other side, making sure the meat is cooked through but avoid burning the coating.  Season while hot.
Tip:  I always have to cut into a couple of the larger nuggets to make sure they chicken is cooked through all the way before serving.
Secret:  My mom taught me a way to get the grease off of nuggets or homemade french fries – shake them in a clean brown paper bag, first season them with salt and pepper and then shake.  Most of the oil will saturate the bag.  Sometimes I just lay the nuggets on some paper towels to drain.
Trick:  Salt the nuggets using a salt grinder held up high to assure even coverage, while they are hot so they really take on the flavor.  Can  also do a quick grind of black pepper while hot if your family likes pepper!
Goes well with homemade Russet or sweet potato fries (skins on) those little French string beans or peas and unsweetened applesauce with cinnamon sprinkled on top.  I serve ketchup or honey mustard as their dipping options, combining ketchup and honey mustard together is cool too.