The kids can now make this on their own, I am so proud of them!  Tastes amazing, the perfect breakfast.  This past May, it was delivered on a tray with a lollypop, nuts and fruits to my bed.  They even made a portion for Daddy, those are the days that make you smile, even years later.
Ingredients:
Loaf of cinnamon swirl bread (with or without raisins)
8-10 whole eggs (the kids like leftovers for scrambling)
1 Teaspoon of vanilla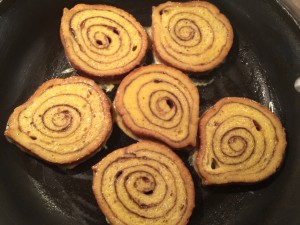 2 Teaspoons cinnamon
2 Tablespoons milk
1 Tablespoon butter
Secret:  If you know the night before that French Toast is on the menu in the morning, put the bread out in the air on a platter, covered with a paper towel.  If the bread is stale it will soak up the eggs better.  Bread doesn't hang around my house long enough to get stale on its own!
Preheat oven to 250 degrees.  Whisk the eggs, 1 teaspoon of the cinnamon, vanilla and milk together in a bowl.  Pour half of it into a cake tin or shallow pasta bowl.  Preheat oven to 250 degrees.
Heat a large non stick skillet on med-high and melt half tablespoon of the butter.  Once the butter starts to bubble start dipping in the bread and putting the coated bread into the pan.  Don't touch it until it browns on one side then flip.  You can tell it is time to flip when the side of the bread starts looking a bit dry.  Second side always cooks a bit quicker.
Put finished toasts into the oven to warm through while you do the last couple batches.  Add more cinnamon to the eggs when you notice the little brown spots are missing, and add the other half tablespoon of butter to the pan when it looks dry.  Use up most of the loaf, keeping a couple for toast if you want – great with butter in the morning.  I count on 2-3 pieces of toast per person.  When in doubt make extra.
The second half of the egg mixture can be used for the final bread.  We just love to keep some set aside, my boys love "vanilla eggs" scrambled, after all the toasts are complete we take whatever eggs are leftover and scramble them – they will be wetter than typical eggs and more flavorful.
We put the warmed toasts on a platter and shake some confectioner's sugar on top.  Use real maple syrup, honey or one of the breakfast sauces I have listed to top the french toasts.
Tip:  If you have extra french toast that goes uneaten (chances for leftovers are slim) wrap in clear wrap, stick it into the fridge and warm it the next morning in the toaster.
Best served with fresh slices of strawberries and bananas and can use strawberry or blueberry sauce.  Could even serve with whipped cream or yogurt and berries as a dessert!  I love a nice crisp bacon with mine.
I bought some thick bread for a special adult grilled cheese recipe, and used the leftovers for french toast and that taste fantastic!