This is my favorite way to prepare a package of turkey cutlets, and one of those dinners that all 3 kids and my husband really enjoy.  I write often about how meals can be hit or miss with my 3 kids, they all have very different pallets, so my goal is to find foods they will all eat.  After spending an hour preparing a meal, it is so much more uplifting to get rave reviews, see their happy faces and clean plates then listen to complaints!  I call-out the recipes that are most popular in my house, hoping you will have great success too.
Ingredients:
4 turkey breast tenderloin steaks
½ cup all purpose flour
1 tsp lemon-pepper seasoning
1 tsp salt
1/2 tsp nutmeg
2 eggs
2 tbsp dry Sherry (or if you don't have any in the house then use white wine or water)
¾ cup finely chopped Jarlsberg swiss cheese (or Emmentaler or Gruyere) cheese
¾ cup dried breadcrumbs, I prefer the plain ones for this
1 tbsp finely shredded parsley (it is much better with fresh, but if all you have is dried, then add a tsp of the dried)
¼ cup butter
1-2 tablespoons canola oil
I set up my three bowls first:
Bowl # 1 contains the flour, salt, lemon pepper and nutmeg whisked together
Bowl # 2 holds the eggs and Sherry lightly beaten
Bowl # 3 has the bread crumbs, cheese and parsley mixed (I find that putting the bread crumbs and small chunks of cheese in a mini-prep cuisinart together gets the cheese small enough to work well in the coating)
Clean, dry and trim the fat off the  turkey breasts.
Season with a quick shake of salt.  Put 2 tablespoons of butter and 1 tablespoon of canola oil into the pan and preheat it for a few minutes.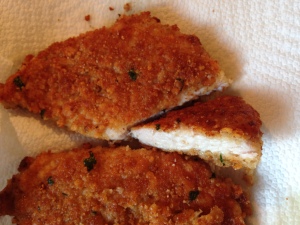 While it is heating, dip each breast first in bowl # 1 and shake off excess flour, then into the egg mixture (bowl # 2) and then into the breadcrumbs (bowl # 3).  Place each coated breast into the warmed pan.  Cook over medium heat for about 8 minutes, flipping once and adding butter and oil as needed.
The trick:  Turkey needs to cook until all of the pinkness is gone from the thickest part, but you don't want to burn the coating or cause the coating to be torn off.  I have learned over the years that not fussing with it, rushing it or turning the flame too high helps with this goal!  Also, always shake off the excess flour before putting the turkey into the egg, this will also prevent losing the coating while cooking.  
To avoid greasy cutlets, laying them on paper towels before serving.  Hit with a last little grind of salt and pepper while hot.
Goes very well with peas and carrots, and mac & cheese or rice pilaf for a real crowd pleasing meal!