Breaded Cauliflower
This one is from our lovely Au Pair friend in Germany, Mellie!  She brought us some nice German recipes, the kids particularly enjoyed this one.  The kids love to help dip the cauliflower and they enjoy eating it as well!
Over the years I have tweaked it here and there, and sometimes add some shredded cheese to the bread crumbs or herbs, depends what is on hand, but this is the basic recipe and you can make it your own with different dried spices or breading.  Best eaten hot out of the pan, it can seem a bit soggy served as leftovers.
Salt for the water
1 small to medium head of white cauliflower
1 large egg beaten with 1 tbsp milk
3/4 cup bread crumbs
1/2 cup finely shredded Swiss cheese (Any type including Jarlsberg, gruyere or emmenthaler)
1 tsp Paprika
Half a stick of Butter
Salt a large pot of water and put it over high heat.  Clean the cauliflower then cut into florets of differing sizes.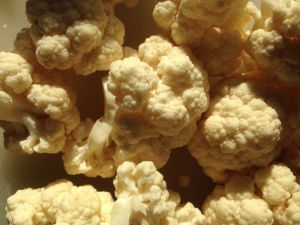 Cook the cauliflower in boiling salted water for 6 minutes, then remove the small florets, keep boiling for another 1-2 minutes for the large florets.  Need to cook until slightly tender.
Tip:  The water should have a good bit of salt added, when you taste the water you should be able to detect the salt.  The salt water is seasoning the cauliflower.
While the cauliflower is boiling, beat the egg with the milk in one flat bowl or pie pan, then put the bread crumbs, cheese and Paprika in a second bowl.
Get the butter melting in a large non stick pan (I know it sounds like a lot of butter, but the bread crumbs rapidly soak up the butter and you need to keep the pan moist, plus the flavor makes all the difference).
Tip:  Add a quick swirl of canola oil to the butter to help prevent it burning.
Once it starts bubbling, you should be ready to drain your cauliflower.  You need to cool them off before dipping into the egg, this can be achieved by putting them in an ice bath (water and ice cubes in a bowl) or running some cold water over them in a colander.  Once cooled, dip each floret into the egg mixture, then the bread crumbs.
Brown on all sides in the pan.   Put the finished florets on a paper towel to drain and serve warm with a couple of grinds of salt added while they are hot.
Even my kids eat their cauliflower when it is made this way, I hope yours will too!
Great served with a simple roast chicken or burgers and mac & cheese