This is one of the many cookies I include in my Christmas cookie assortment.  However, it is my eldest son's favorite so we tend to make it during the year as well.  It is a great nut free alternative to bring to school bake sales, and serve at birthday parties and play dates.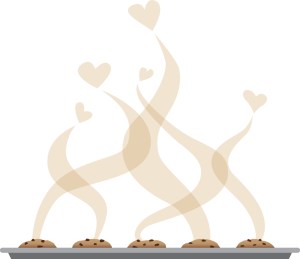 Orange Scented Triple Chocolate Cookies
Ingredients:
2 sticks softened butter
3/4 cup granulated sugar
2/3 cup brown sugar
zest of 1 orange
2 tbsp of orange juice
Tip:  It is super easy to zest an orange, just use a micro-plane.  My kids can do this as well and save me a little time.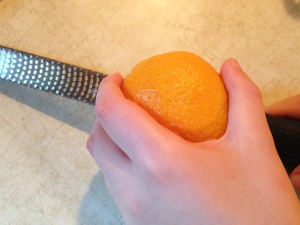 1 1/2 tsp Vanilla (I use Madagascar  pure vanilla extract)
2 large eggs
2 1/3 cup all purpose flour
3/4 cup baking cocoa
1 tsp baking soda
1/4 tsp salt
1 cup white chocolate chips
1 cup semi-sweet chocolate chips
Preheat oven to 350 degrees.  Cut parchment and place on 4 cookie trays.
Tip:  Cut the parchment to size or a bit smaller than the trays.  If you let the parchment hang over the side it will char and burn.  You don't have to use parchment with this recipe, I just find it much more forgiving when removing the cookies from the trays and clean up is a snap.
Cream the butter and sugars in a standing mixer or in a large bowl with a handheld mixer.  Once well combined, add the vanilla, orange zest and orange juice.  Add one egg, combine, then the other egg and combine.
Put all the dry ingredients in a small bowl (flour, cocoa, baking soda, salt) and whisk together.  Add the dry ingredients a little at a time while blending on low.  Clean the sides and do a final mix with a spatula.  Add the chips and blend.
Make the cookies all one size on each tray so they cook evenly.  Small cookies just drop about 1 1/2′ worth of dough and they will cook in 9-10 minutes.  Medium are about 2″ across will cook in 13 minutes and large cookies require 3″ across balls of dough and could take up to 15 minutes to cook.  I generally do a tray of each size.
Once cooked through, you can take them off of the trays and lay them on cooling racks after a minute or two cooling on the tray.  With the parchment paper, you can wait longer and they will still come off the tray easily.
Store in an airtight container for a few days or freeze up to 30 days.
Cherry Triple Chocolate Chip Cookies:
These also taste great, same recipe as above just add dried cherries (1 cup) instead of the orange flavor, then add into the wet ingredients 1 tbsp Kahlua and make the chips all white, (2 cups).  I tried this tonight and they got rave reviews, the tart dried cherries worked well off of the extra sweet white chips and the Kahlua makes the chocolate tastes even stronger.  There are only two types of chocolates, but the Kahlua is the third chocolate in this one by representing the bitterness of a very dark chocolate: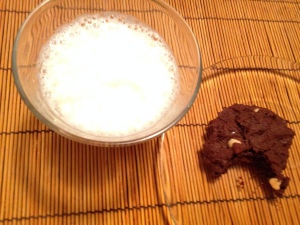 Best eaten dunked in some cold milk