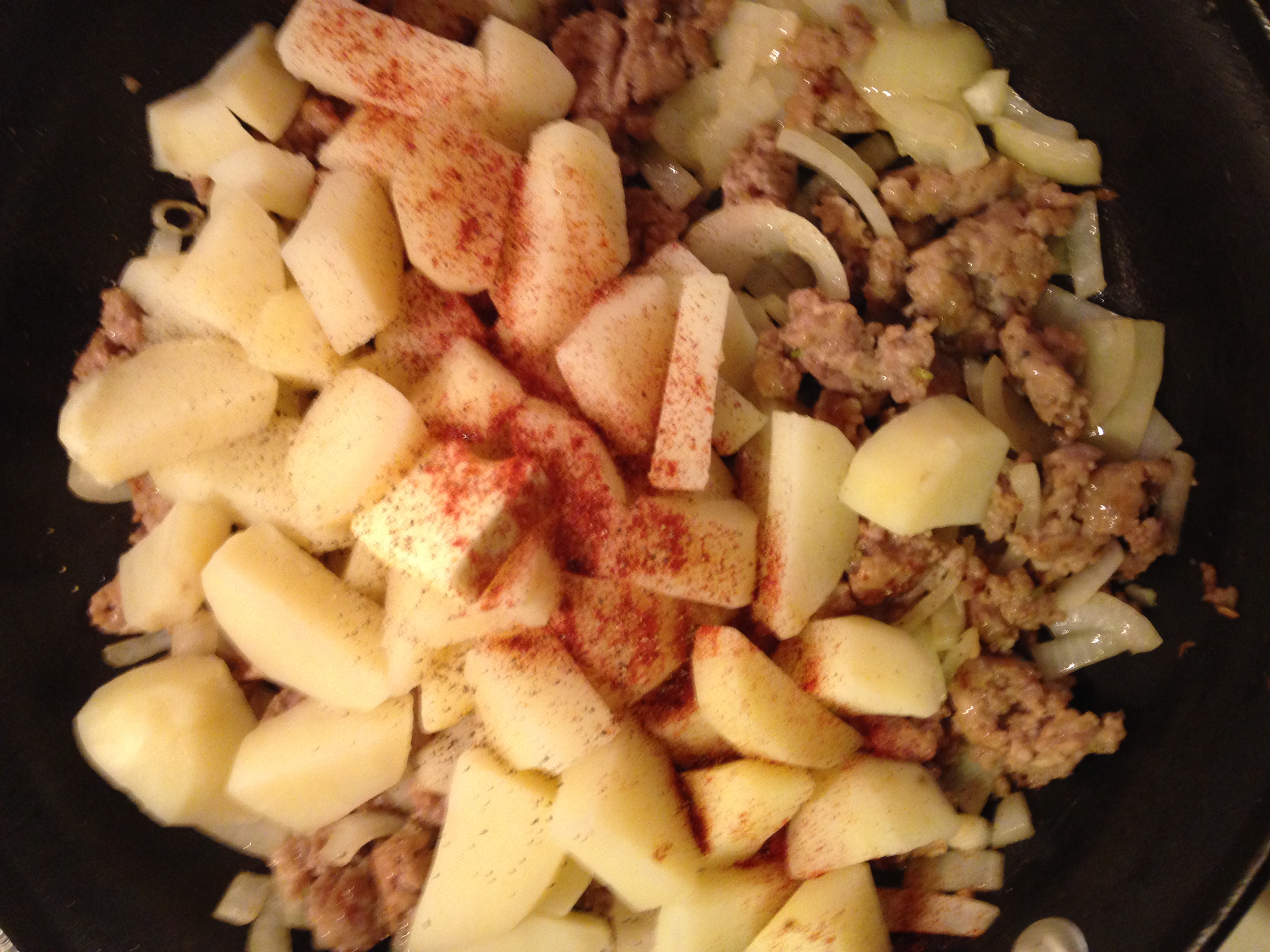 Over the years I have seen lots of pre-fab fake dinner items come on the market.  Before my time was the onset of TV dinners, then came the hamburger helpers and the frozen skillet vegetables and the recipes that relied on the addition of canned soup for their flavors.  Why not just use fresh stuff and serve it up?  It really doesn't save that much time to use frozen or boxed items to speed up dinner, and what is lost can be actual nutrients.
This is something you can whip up on a weekday, and you can add veggies too, depending on your tastes (colorful peppers cooked down with the sausage, or wilt some greens or spinach in there at the end of cooking) or pump up the seasonings if you are more spicy than this mom (red pepper flakes or chili powder maybe?) and you have a meal in a skillet, that sticks to your ribs and is sans artificial preservatives and mystery ingredients!
Ingredients
4 russet potatoes (peeled)
Salt
2 tbsp canola oil
3 sweet Italian sausage (out of the casings)
Tip:  Just slit the top of the sausage the long way, top to bottom with a knife.  Then pull out the meat with your fingers.  Sorry, again I don't know a tool better for certain jobs.
1 small onion, large dice
1/2 tsp or so of salt
1 – 2 tbsp butter
1/4 tsp or 2 shakes of black pepper
1/2 tsp or 4 big shakes of paprika
I start by peeling and dicing the potatoes.  I keep them medium sized like I would for mashed potatoes, so they cook relatively fast.  Put them in cold salted water, turn on the heat and once it boils check them at 5 minutes then again at 10 minutes for if they are fork tender.
Once they fall apart when you plunge the fork into the center they are done.  Drain and rinse with cool water to stop the cooking.
 Heat the oil in a large frying pan.  Once hot add the sausage meat and break it up into small chunks.  Be patient, it will take a bit of effort.  Once it is browned on both sides, add in the butter and onions, and salt the onions.  Cook for 3 minutes or until beginning to get tender, make sure you have enough fat on the bottom of the pan to brown the potatoes, if you don't add a bit more oil or butter.
Add the drained potatoes, season with paprika, pepper (and any other spice you might like on potatoes).  Kind of move everything around for a bit to combine, then mash the potatoes into the bottom of the pan to brown, letting them sit for a few minutes that way.  Flip them over and brown a bit on the other side.  Ready to serve!   You can throw in some stock or wine at the end and stick on a lid to finish the cooking, but you can also keep them crispy instead.
If you have added in some vegetables, this is a complete meal and perfect to serve with a nice light salad to balance the richness.  Of course, it is also great for breakfast or brunch just as it is!