Just when I thought I was over making food with apples, I almost forgot my favorite stuffing recipe!  Try this out, it is amazing!  Equal parts celery, onion, sausage and apple, mixed in with 2 kinds of bread, herbs, seasoning and chicken broth.  As Ina Garten says, "How easy is that?"  I want to thank a good friend from when I worked in the city, Penny, for this recipe.  She generously gave me tips that led to this exact stuffing I have used for years and years since.
When I make the full Thanksgiving dinner, I always start by preparing the turkey, and getting that into the oven super early (since we make very big turkeys it needs hours) and the second thing I do is get the stuffing going.  You can even make it the night before and let it sit in the refrigerator overnight and the flavors will combine; or, make it first thing in the morning and put it in the refrigerator until you have just about an hour until dinner, then stick it in the oven with the other dishes – it only takes between 30-50 minutes depending on the oven temperature.  The first year I made it, boy did I burn it!  Lesson learned.
Ingredients
6 Sweet Italian sausages (remove casing)
2-3 tbs butter
8 celery stalks
1 large onion
2 sweet apples diced
2 Granny Smith apples diced
8 slices cinnamon bread (you can use the cinnamon raison one if you prefer)
8 slices potato bread
1-2 small containers unsalted chicken broth (I use Kitchen Basics)
1 egg slightly beaten
2 tsp dried herbs de provence (can use fresh herbs but I would add them at the end on top for freshness)
Salt and pepper to taste
Baste with turkey drippings or gravy before serving
Pull the sausage out of the casing by slicing down the long ways adn then pulling out the meat with your fingers.  Get the sausage browning in a Dutch oven or large skillet with a little butter(1 tbsp) just to coat the pan.  Break it up as you shift it around the pan.  While the sausage is browning, start prepping the fruit and veg – cut the onion, peeled apples and celery into small dices.  Once the sausage is mostly brown, add in the apple, celery and onion.  Cook while stirring occasionally until the onion is tender and the apple is getting tender (10-15 minutes on medium heat).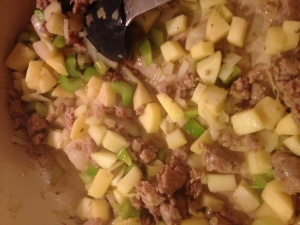 Cooking down the apples, onions and celery
While the sausage mixture is cooking, take the slices of bread and tear them with your hand or cut them with a knife into small chunks and put them into a very large bowl or pot.  Once the apple is a bit tender,  pour the hot mixture into the bowl with the bread and combine with clean hands.  Sprinkle on some salt, pepper and the 2 tsps of the herbs de provence.  Add 1 box of the kitchen bbasics unsalted broth and stir it all together, if it seems dry you can add part of a second box (of course if you have homemade stock, even better).
Once the mixture is cool, then add the beaten egg that will help bind the stuffing together.  If it still seems too dry or is not coming together you can add a second beaten egg.  If you are going to stuff a turkey, put as much stuffing as you can get in the large cavity and some in the front of the bird first.  Whatever is left put into a buttered lasagna pan in a thick layer (which size you will need will depend on how much you have left, either an 8X8 or 9X13 pan depending).
I take another tbsp of butter and break it into little peas and put it evenly over the top of the pan of stuffing to help it brown.  The stuffing will not take that long in a hot oven (maybe 30 minutes in a 425 degree oven, or for 50 minutes if the oven is at 325 degrees).  Just put it into the oven and check it at 20 minutes, then every 10 minutes until it looks nice and browned on top without being dried out.
Before it is ready to serve, put some of the turkey drippings on the top or some gravy if you already have it made by that time.  If you have fresh thyme, sage or rosemary or all three, chop finely and add to the top before serving or top the stuffing with some herb butter.  Serve and enjoy!  I
Per my Aunt Joyce, cranberries will add lovely color, I would add the dried ones after you cook the sausage mixture in the skillet.  I would suggest some roasted, chopped walnuts for crunch if you want that texture, half a cup.  I serve this with a turkey at Thanksgiving or with roasted chicken any time in the Fall/Winter for a special treat!