I love frozen puff pastry sheets and use it to top my chicken pot pie and to make garlic bread sticks too.  This recipe allows for hot gooey pastries you can make at home, and all you need are puff pastry sheets and a little imagination!
Ingredients
Flour (only half a cup or so just for the board)
Two sheets of puff pastry
2 tbsp unsalted butter melted
cinnamon sugar
1/2 cup raisins
1 Granny Smith or Fuji apple peeled and very thinly sliced
1/2 cup roasted (4 minutes in 350 degree oven) pecans or walnuts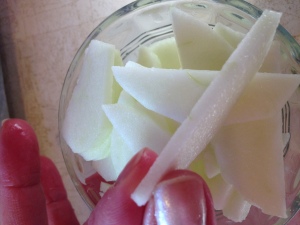 Preheat oven to 425 degrees.  Put some flour on a cutting board and roll out one of the thawed puff pastry sheets.  Brush on the melted butter all over the top side, sprinkle on the cinnamon sugar all over.  On half the sheet lay the apple slices flat, sprinkle some nuts and raisins.  Fold the other half of the puff pastry over the filling.
Tip:  Don't roll it, or else the pastry that ends up in the middle will stay raw, I made that mistake so now I know!
Once the top is covering the apple mixture, crimp the edges.  Brush the top with more butter and sprinkle with more cinnamon sugar and place on a parchment covered baking sheet.  Put into the oven in the  middle rack and set a timer for 20 minutes.  Check the pastry, and if it is not browned and crunchy on top, set the timer for another 10 minutes.  If still not browned, try one more 10 minutes and it should be done!  Cool it for 20 minutes to allow it to set, then cut it into thick slices and serve.
For the other sheet follow the same directions above, including the butter, cinnamon sugar and raisins, but instead of the apple and nuts spread some good quality all natural black current jelly as a filling.  Tastes fantastic!  Cook for 20 – 40 minutes as above, just making sure the top is browned before removing from the oven.
What other jellies, jams or thinly sliced fruits and nuts could you use to make this pastry….just be creative!  How about some nutella and raspberries?  Maybe next time I will try that.
Great served as a breakfast treat, or add some homemade whipped cream and it becomes an elegant dessert!