Everyone knows the Toll House recipe found on the bag of the chips, I make it year round and also as a part of my Christmas cookie tins.  After making it year after year, this is my favorite combo:  Half dark chocolate chips, half milk chocolate chips and 1 cup of roasted pecans.  I also add some whole wheat flour and extra vanilla.  When feeling virtuous I even include a handful of bran with the dry ingredients (the kids never know and it adds fiber to the cookies!)
You can do ANYTHING with this basic recipe; like, add in coconut flakes, Heath pieces, peanut butter or butterscotch chips, raisins, dried cranberries, you name it and it will work!
I just think it tastes fabulous with the mix of chocolates and lovely pecans.  I grew up down the street from a family who were from Louisiana (Becca and mom Nancy) and they taught me prcans (said properly with a Southern accent please) are a great addition to many desserts.  You will notice that sometimes I even use them instead of the classic walnuts with apples, because pecans rock.
Following recipe will make 4 or 5 trays of cookies, but I generally will double below and easily produce over 120 nice sized cookies.
Ingredients
2 sticks of butter softened
3/4 cup brown sugar
3/4 cup granulated sugar
2 tsp vanilla
2 large eggs
1 3/4 cup all-purpose flour
1/2 cup whole wheat flour
1 tsp baking soda
1/4 tsp salt
1 cup dark chocolate chips
1 cup milk chocolate chips
1 cup pecans (chop them then toast them in 375 degree oven for 4 minutes)
Preheat oven to 375 degrees.  Cream together your butter and sugars until well combined (I use the Kitchen Aid standing blender but you can also use a large bowl and a handheld mixer).  Add in the vanilla and 1 egg and combine.  Then add in the second egg and combine.
Tip:  I always crack my eggs into a Pyrex measuring cup first, then pour into the batter.  After I got shells in the batter once, I learned my lesson!
Whisk together the flours, baking soda and salt.  Add in these dry ingredients, while blending on low speed, then the chips and nuts.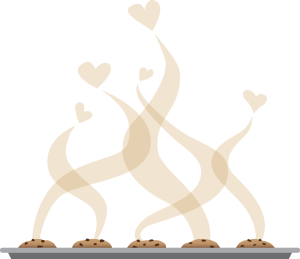 Put the dough in small, medium or large shapes onto a parchment covered tray not in fancy rolled balls, just quick mounds (not necessarily needed with this recipe, but helpful to use parchment).  Cook for 8-10 minutes for small to medium cookies and 10-12 for larger cookies.  Cool on the tray for 2 minutes then remove to a cooling rack.
Trick:  You know they are ready when just slightly browned on the edges of most the cookies, be careful not to over bake!
Secret:  I used to wonder why my cookies would spread so thin – I learned it could either be that the dough is being put onto a warm tray which starts the baking too early (so I started to put the hot pans in the freezer for a few minutes before putting the next batch of cookies on them); or, it could be because the butter was really 'melty' or over mixed with the sugars.  Just combine room temperature butter with the sugars until combined, then move on to adding the vanilla and eggs. 
Serve warm, or keep in a cookie jar for a few days, or in the freezer for up to 30 days in a ziploc bag or airtight container!
Great with chocolate ice cream or gelato!
Zero Work, Fresh Baked Cookies:   If you have NO time or NO motivation to create a cookie dough from scratch, but want a piping hot cookie, I found just the solution for you!  Sweet Loren's is an innovative and unique new pre made cookie dough.  The reason why I promote Sweet Loren's dough, is it's preservative free, and made with whole grains and natural sweeteners.
I tasted Sweet Loren's cookies at the NY Wine and Food Festival and was blown away by the home baked wholesome flavors.  Pop the dough into the oven to make piping hot cookies, no muss, no fuss.
Check out where to buy by clicking Sweet Loren's below: