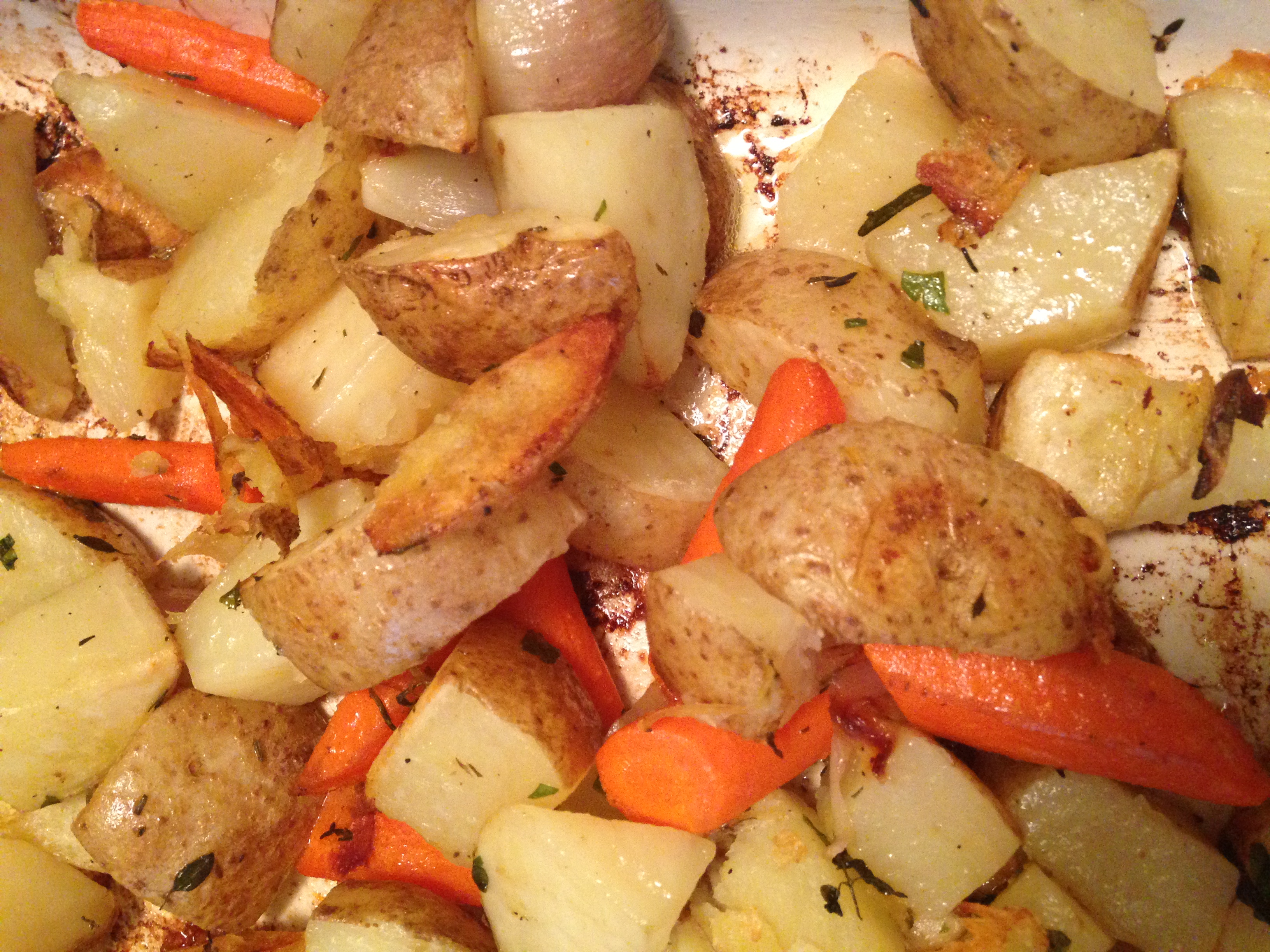 This is a great side dish to make when you are roasting a chicken or beef, since the oven will be heated for a long time anyway.  You can time it so that an hour before the meat is complete, put in the roasted veggies to start cooking.
Ingredients
3 russet baking potatoes cleaned and cut into small chunks
5 carrots peeled and cut into large chunks
2 or 3 large shallots cut into big chunks
2 tbsp olive oil
1 tsp salt
1/2 tsp pepper
1 tsp dried thyme
1 tbsp fresh herbs (I used rosemary and lemon parsley)
Olive oil spray for the tray
1-2  tbsp butter for some extra flavor
Preheat oven to 425 degrees (or just keep it at the temp you havfe it on for the rest of the meal if that is roasting as well).  Clean and cut the potato, peel and chop the carrot and peel and chop in half or quarters the shallots and put them all in a bit bowl.
Drizzle the olive oil onto the veggies and toss around.  Sprinkle the salt, pepper, thyme and fresh herbs onto the veggies and toss in the flavors.  Spray a cookie tin or lasagna dish with the olive oil spray.  Pour the potato mix onto the tin/tray in a single layer.
Cook for 20 minutes if the oven is at 425 (or 35 minutes if the oven is on 350 degrees) then toss them around and add the butter in little pieces all over the top, it will add flavor and help it brown.
Check them again in 10 minutes (15 if oven is lower) and see if the potatoes are tender and browned on at least one side.  If not, keep cooking until they get there, tender on the inside and crunchy on the outside.   Serve hot and enjoy!
Great with roasted chicken, prime rib or breaded turkey cutlets and broccoli