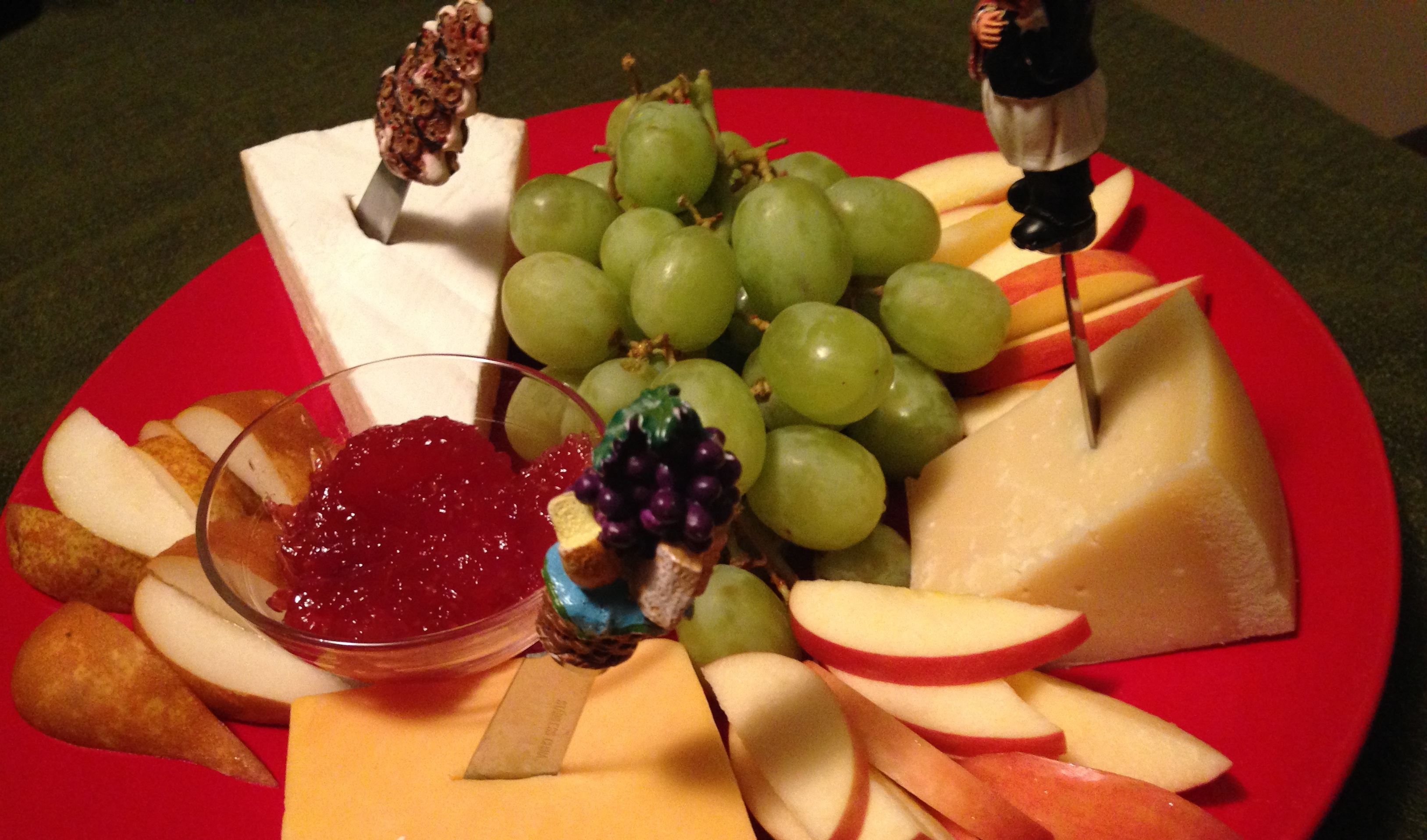 If you love Christmas, go to Kings Now!  If you are a scrooge, stay away, this is a warning.  Christmas has come to the grocery store Kings already!  See photos for evidence.
I LOVE Christmas, I have been shopping since September.  Yes…I am one of those people.  I just eat it up.  Now that I have 3 kids, they reap the benefits.
Everyday in December is Christmas in our home, we do advent calendars (one for each kid, huge felt calendars from our lovely Melanie in Germany), and we receive  packages in the mail from friends and relatives around the world and open them during out 12 days of Christmas, those last couple of weeks before Christmas.  October – November is all about shopping, wrapping decorating and BAKING!  But today, after my Kings visit, I got pumped up to share with you my favorite holiday appetizer, the cheese platter.
I have a cheese platter out on the table every Thanksgiving, Christmas Eve, Christmas Day and Boxing Day (British day after Christmas where the leftovers were boxed up for the poor, which is now traditionally celebrated with friends as a kind of second Christmas, I am all for that!)  I sometimes serve cheese platters at Easter or summer barbecues, but to be honest, if the weather is warm, the cheese doesn't last long.
Ingredients:
The star of the show is the cheese, and I use:
1 Soft French Cheese:  Brie or Herb Brie or Camembert
1 Cheese with a bite!:  Stilton, Parmesan Reggiano or a sharp Gruyere or Emmenthaler
1 Mild but amazing cheese:  Smoked Gouda, Irish Cheddar, mozzarella wrapped in salami or go tacky but yummy with a Sherry Cheese Ball covered in nuts (my hubby's favorite)
Crackers:  Favorites are brands Dare (pictured is the whole grain with black sesame and poppy but my favorite is their original flavor) or Carr's crackers (my favorite is the whole grain, they are like British biscuits)
Accoutrements:  Sliced pears and apples (great with soft cheese), green or purple seedless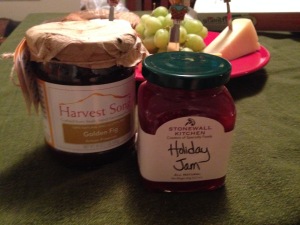 grapes, and toppings for the non-cheese folks.  I just I found a lovely fig jelly and holiday jam at Kings (while I was floating through Christmas land).  Honey would be very nice to put on a piece of cheese, and sometimes I put some Biscoff spread out for the kids, ever try it?  It is awesome, a spread made of those tasty spice cookies served on airplanes with coffee.
Best serve with other easy apps like cashews, dried fruits, olives, sliced Italian bread, and then make a couple of items right before the guests arrive like garlic sticks or small meatballs and for the kids 'pigs in a blanket' or mini pizzas