This chili tastes fantastic and is not too spicy, I can't handle too much spice.  If you can, then replace the red bell pepper with a hotter pepper of your choice and up the chili powder.  You can also add some pinto beans, my kids just don't love beans so I stick to the small white ones that are better camouflaged.
This is a lovely warm dish for cold late Fall or early winter days, and best made on a day you are in the house anyway to stir.  My husband is always amazed that this is made with ground turkey, it totally tastes like beef, but is a leaner alternative.  Leftovers make a hearty lunch, send it into school in a thermos!
Equipment:  Large Dutch oven or big stock pot
Ingredients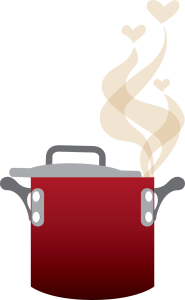 1 tbsp canola oil
1 tbsp butter
1 large onion
1 red bell pepper small dice
2 garlic cloves minced
1 tsp cumin
1/2 tsp oregano
2-3 tbsp chili powder (it sounds like a lot, but this is chili after all!)
1/2 tsp cinnamon
1 tbsp cocoa powder (this is not something that you will taste, but it will add a depth of flavor like the dark beer does as well)
2 lbs. ground turkey
2 tbsp tomato paste
1 bottle dark beer
1 can whole tomatoes
2 bay leaves
1 can small white beans
Salt and pepper to taste
Small chunk of sharp cheddar, grated for topping
Small red onion chopped finely, also for topping the chili
Peel and dice the onion and pepper and put aside in a small bowl.  Dice the garlic and put into a really small bowl.  Measure all of the dried spices and cocoa powder and reserve in a small bowl.
Putt the Canola oil and butter in the bottom of the oven or pot and cook on medium heat.  Add in the onion and pepper, and salt it lightly.  Cook until tender for 3-4 minutes.  Add in the garlic and cook for another minute.
Add the ground turkey, and break it into small chunks while browning the outside for 15 minutes or so.  Sprinkle in the dried spice and cocoa powder mixture and the tomato paste.    Add in the whole tomatoes, 2 bay leaves, white beans and 1 tsp salt, 1/2 tsp pepper.
Tip:  Cut up the tomatoes either right in the can with a scissor, or in the pot, you can even break them up in your hands if you like to get properly "stuck in" as a cook!  But we tried that, and the entire wall got splattered with red tomato juice, so I am back to the scissor.
Cook and stir over medium heat for another 45 minutes to 1 hour, until all of the flavors mix together and the meat is cooked through.  Can also put into the oven on 325 degrees for an hour, but you still should open up the pot and stir every 10 or 15 minutes or so.
Tip:  If your chili is too bland that is an easy fix, add more chili powder.  But if it is too spicey for you or your family, add in some sour cream to cut the spice and it will also add a nice richness!
When serving in the bowls, sprinkle grated sharp cheddar cheese and some chopped red onion on the top
Best served with a warm loaf of sourdough or whole grain rolls and present like sloppy joes