This is what I usually make when I have leftover turkey.  We always called it a wiggle because the egg noodles are wavy I guess.  I loved this growing up, so now I make it for my kids.
I just make sure I have egg noodles in the house, and if I think about it a few other items like mushrooms and frozen peas.  Right after dinner I usually boil the water for the noodles then pick  the remaining turkey off the bones and set it aside in a casserole dish.  Then I add the rest of the ingredients and at the end put in the hot noodles, stir and top with breadcrumbs and cheese.  Easy!
Ingredients
1 bag of egg noodles
1-3 cups of leftover turkey shredded or cut into bite sized pieces
leftover gravy (whatever you have left)
Secret:  My mom's secret was to add in a can of Campbells cream of mushroom soup – that was her original way of flavoring this, I prefer to just use gravy, milk and salt/thyme for the flavoring)
1 cup of whole milk
1 handful of frozen baby peas
9-10 button or baby bella mushrooms cleaned and sliced
1/2 cup of pitted black olives slices (optional – Mom always uses)
1 tablespoon of pimentos (optional – Mom always uses)
Season with salt and pepper (you need to taste it to know how much, the gravy or canned soup will have salt already)
1 tsp Thyme or poultry mix like herbs de provence
1/2 – 1 cup fine bread crumbs
Shredded cheese to top the casserole (best is a sharp gruyere or emmenthaler)
Tip:  Any cheese that will melt can be used, I had leftover smoked gouda from the cheese platter, so I chopped it small and used that this time.  This kind of a recipe is all about using what you have on hand and creating something delicious.
Preheat oven to 350 degrees.  While the water boils to make the egg noodles shred the turkey, and clean and slice the mushrooms.  Then place  the turkey, gravy, milk, peas, mushrooms, herbs and if using the pimento and olives into a large casserole dish or Dutch oven.  Mix it around.  Add in the hot noodles, they may not all fit depending on the size dish you chose.
Combine all the ingredients, then sprinkle the bread crumbs and cheese on the top to fully cover the surface noodles, that way they won't dry out!  I didn't use mushrooms, pimentos or olives this time – I just used what I did have on hand and it worked out well anyway.  The biggest trick is to not sweat the small stuff, everything tastes great with noodles so you can't really go wrong.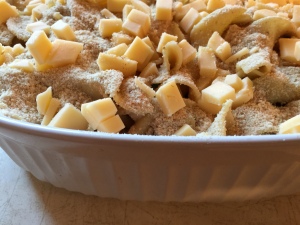 Heat in the oven for 25 minutes with the lid on, then remove the lid and heat another 15 – 20 minutes until hot and bubbly.
Great served with whatever veggies you have leftover from the night before.