OK, this one admittedly sounds odd.  And I must confess, I didn't even taste it since I don't love seafood….but, my father, husband and son thought it rocked, so there you go.  I made it over the weekend, and as all good inventions, it sort of evolved from a mother's exasperation.
My son and I were at the fish section of the supermarket, picking up shrimp when he requested to add fish to our shrimp recipe, which made no sense to me, but I was too tired to fight him (ie I was a great and supportive mother allowing him his freedom – yeah right).  Flounder was on sale, so I bought the dozen large de-veined shrimp and one piece of flounder.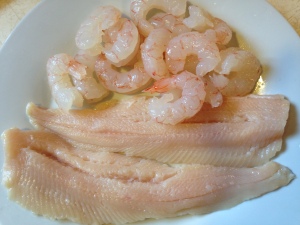 Tip:  ALWAYS get de-veined so you don't have to pull that gunk out yourself and have your hands smell like the sea for hours.
We took our groceries home and got cooking.  This was the resulting dish.  Did I mention my dad, husband AND son said it rocked?
Ingredients:
12 de-veined and shelled large shrimp
1 piece of flounder cut in small chunks
2 tablespoons olive oil
2 gloves of garlic diced
2 large oranges
(first zest the oranges into a small bowl, then squeeze in the juices)
1 tablespoon butter
1 tablespoon Wondra flour
Half cup heavy cream (may want to add a bit more depending on how much liquid you have for the pasta)
salt and pepper to taste
Half pound whole wheat linguini or spaghetti
Main ingredients for this recipe
Start heating up your large pot of water for the pasta.  While it is coming to a bowl, chop your garlic, zest and juice your oranges, then grab all of your other ingredients and make them handy next to the stove (butter, Wondra flour, cream, salt and pepper).
When you drop the pasta start the shrimp – this will move very quickly.  Set a timer to cook the pasta for 1 minute less than instructed, you will finish cooking it in the sauce.
Heat a large skillet on med-high and add the olive oil
Once the pan is hot drop in the garlic for 1-2 minutes (don't brown it or it gets bitter)
Add the shrimp and flounder and cook for 2-4 minutes or until the shrimp gets an orange tinge.
Pour in the orange juice and rind, add the butter and shake on some Wondra flour before the sauce is heated or it will clump a bit.  Heat stirring constantly for another 2-3 minutes.
Pour in the cream and add the salt and pepper.  Keep warming on low until the pasta is finished.
Dump in the pasta, stirring it in the skillet with the sauce and the fish.  If there isn't enough sauce for the noodles you can add more cream, if there isn't enough pasta for the sauce, that is what the bread is for – to mop up the extra sauce.
The weirdest thing about this meal is the flounder virtually disappears in the sauce, but it helps to flavor it.  The orange adds a brightness and the cream a richness that seems to go well with the fish.  Can top with herb butter.
Best served with a nice loaf of whole grain or sour dough bread and a side salad