I have 'me mum' (my British mother-in-law) to thank for this recipe, she always made a wonderful pot roast, and it is her pot roast that has inspired today's post.  I took her advice, some tips from a friend and combined those with tricks I have picked up over the years and learned from my favorite TV chefs, to create my version of the Sunday pot roast.  It came out super flavorful and melted in my mouth.
Equipment:  I prefer to make this in a Dutch oven, but you don't have to use one, any pot will do that can go from burner to low oven.
Ingredients
1 3-5 pound Chuck Roast
1 tbsp kosher or sea salt
1/2 tsp ground black pepper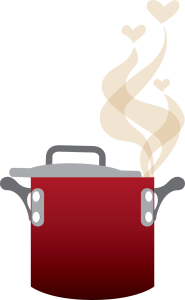 1/2 tsp dried thyme (if you don't have thyme you can use dried rosemary or oregano)
2 tbsp butter
2 tbsp canola oil
3 yellow onions, cleaned and chopped in 4 pieces each
6 large carrots pealed and coarsely chopped
4 cloves of garlic
2-3 stalks of fresh rosemary or thyme tied together with string (optional)
1 cup unsalted beef stock
1 cup bold red wine
2 tablespoons brandy
1 tbsp tomato paste
Put all your ingredients out onto the counter.
Prep your veggies(I tend to clean, peal and cut all my vegetables before I take out the raw meat and prep that, so I don't cross contaminate).  Peel the carrots, rinse and cut into large chunks, reserve in a bowl.  Peal, rinse and chop onions into fourths and reserve in another bowl (it will fall apart in the pot as it cooks).  Clean and peal your 3 cloves of garlic.
Secret:  My friend Jane taught me this one, take the cloves of garlic and slice them long wise in half so they are thinner.  Use your knife to cut 4 little slits on both sides of the meat, then open up the slit with your finger and stick in a half a garlic clove in each.  This infuses the meat and sauce with the garlic flavor.
Tip:  Make your own little seasoning blend by combining the salt, pepper and dried herbs in a mortar and pestal if you have one, crushing them together.  If not, just smash the herbs in your hand and mix with the salt and pepper in a small bowl.  Goal is to get the oils out of the herbs.  Use the seasoning for the meat and the vegetables.  
Put 1 tbsp butter and 1 tbsp oil in the Dutch oven and start warming it on medium-high for a couple of minutes.  Put in your onions and hit them with seasoning mix.  Brown on both sides.  Remove to a plate.  Add in the carrots and do the same, adding more butter and oil if the pot is dry (season and brown on both sides).
Preheat oven to 300 degrees.  While the carrots are browning, prep the meat.  Always use chuck for a pot roast, I have asked the experts several times (the butchers in local grocery stores) and it seems to be unanimous, chuck has the best flavor, includes marbleized fat and works really well slow roasted.  Take your meat and rinse it, then pat it dry, then season by holding the salt mix high in the air and drop it all over the meat.   Don't think it is too much seasoning, this is a big piece of meat!
Take your seasoned meat and coat it in flour.  Put the flour in a shallow bowl, then lay the beef in the flour, shake off excess and then lay the other side in the flour and get rid of the excess.  When the onions and carrots have been browned, start browning the meat, again adding some butter and oil if the pan is dry (about 3-4 minutes per side).  While that is happening, warm the wine, brandy, beef stock and tomato pasted in a small pot while whisking occasionally.  Take the meat out of the pot and put onto a plate.  Pour the hot wine mixture into the pot and keep it on the heat, scraping the bottom with a spatula.  Cook out the wine for 4 minutes, add back in the onions, lay the meat on top of the onions then pop on the lid and put it into the oven.  Put the carrots into the fridge for 1 hour, you don't want them to cook the entire time, it is too long.
Set a timer for 1 hour, open up the Dutch oven and pour in the carrots.  Set a timer for another hour, then check on the meat, take a fork and see if the meat falls apart very easily, if not then keep cooking.  Count on anywhere from 2 1/2 hours – 3 1/2 hours until it is good to go.  Check it every 20 minutes or so (with his meat, it is better overcooked than under cooked).  You will really know it is done when it melts in your mouth!
When ready, pull out the fresh herb stalks that were tied in the string, then plate the carrots in a serving bowl with the onions.  Let the beef rest with an aluminum foil tent over it, while you make your gravy.  If you need liquid, add potato water if you happen to be cooking potatoes, or just use some tap water.  Add 6 ice cubes to cool it down and thicken the sauce with Wondra flour while whisking, when it is cooled down to prevent lumps.  Taste for seasoning, adding in salt and pepper if needed.
Best served with fluffy mashed potatoes to soak up the gravy, and some baby peas to add some bright green color to the meal!