This is my absolute favorite soup.  It is hardy and delicious, with some mild spiciness from the caraway seeds and paprika, and filling because of the potatoes, and rich from the sour cream.  A perfect winter soup, this is an alternate use for homemade beef broth created when you make a prime rib instead of the beef barley soup.  This is something good to make for a weekend, and the soup itself makes a great lunch or dinner for the family.  My Dad doesn't like pork at all, and when I served him this soup he loved it, the beefiness of the broth really overrides the pork flavor.  Using homemade beef stock is makes such a difference.
The down side of using homemade stock is that it takes a whole day in the house, so I only make this once or twice a year.  If you are snowed in anyway, this is a fun way to pass the time and a great, hearty soup to make for dinner.  I think it would still taste great even if you skip the homemade stock, then it can be made on a weekday night when time is tight – with store bought stock prep time is 30 minutes, cook time 45 minutes (or do what I did, and thaw some beef stock made earlier in the winter).
Ingredients
¼ cup unsalted butter (half a stick)
2 tablespoons vegetable oil
1 yellow onion, finely chopped
2 cloves garlic, finely chopped
1 lb pork tenderloin
1-2 tablespoons hot paprika (depending on your preference)
1 ½ tsp caraway seeds
2 quarts Beef Stock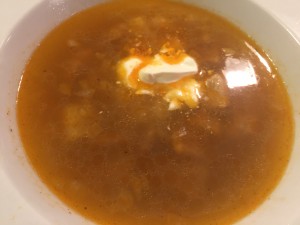 1 cup (8 fl oz) dry white wine
2 russet potatoes, peeled and cut into ¼ – ½ inch cubes or if you prefer add in some orzo (1 cup) or egg noodles (half bag)
Freshly ground salt and pepper to taste
Tip:  I always try to under salt food so my kids won't learn to crave overly salty food.  That is also why we don't give them fast food more than once or twice a year.  However, be careful…any homemade soup needs to be adequately salted before serving or you risk it tasting like dish water!
¾ (6 fl oz) cup sour cream
¼ cup chopped fresh chives (optional)
Chop the onions and garlic into small pieces.  Clean, trim and cut the pork into small bit-sized chunks.  Warm the butter and oil in a Dutch oven or large stock pot over medium heat.  Add the onion and garlic and sauté until the onion is translucent, 3 or 4 minutes.  Raise the heat; add the pork and sauté until it is lightly browned, 3-5 minutes.  Sprinkle in the paprika and caraway seeds and sauté for 1 minute more.
Add the stock, wine and potatoes.  Bring to a boil and deglaze the pan by stirring to dislodge any browned bits.  Reduce the heat and simmer, uncovered, until the pork and potatoes are tender, about 30 minutes.
Season to taste with salt and pepper, ladle into bowls and garnish with the sour cream and chives.  Serves 6.
Tip:  whisk in the sour cream or it might get clumpy.
For lunch, serve with paninis or my favorite adult grilled cheese.  For dinner, warm a loaf of sour dough or whole grain bread and serve some salad to round out the meal.