I made some cool compound butter over the summer taking advantage of the fresh herbs in the garden.  Now that my yard and gardens are covered with a foot of snow, fresh herbs are out of the equation.  I created this butter using dried herbs instead of fresh, and it still worked really well.  I used it for a skillet chicken, garlic bread and a delicious veggie dish.  This amount of butter will get you through a couple of weeks and can add flavor anything you would use regular butter on (pasta, mashed potatoes, etc)
Ingredients 
2 sticks of unsalted butter softened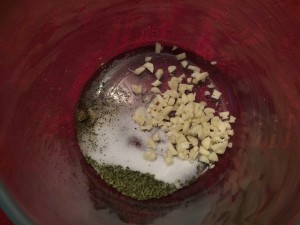 1/2 tsp salt
1/2 tsp dried oregano or thyme
pinch of black pepper (or more if you like pepper)
2 cloves of garlic, small dice
Put the very soft butter into a small mixing bowl, add the seasoning (and really, get creative and use the dried spices you want), then peel and clean your garlic cloves.  Cut them into very small dices and add to the butter.  Combine it all together with a rubber spatula or a spoon.  Mold the butter into a cylindrical shape, wrap it tightly with clear wrap and pop it into the freezer for a bit to harden (half an hour or more).  Then it is ready to use and can be kept in the refrigerator for up to a couple of weeks.
I spread it on a big loaf of 'everything bread', heated it wrapped in tin foil in a 350 degree oven for 25 minutes and it was crispy and flavorful, a big hit with the family. We had a little leftover so I put that in the fridge, and to reheat the next night I just put the leftover pieces in a warm 50 degree oven for another 20 minutes to get it back to being crunchy.
Tip:  Leftover garlic bread that is getting stale can be used in soup or chopped up finely in a Cuisinart to make homemade bread crumbs.