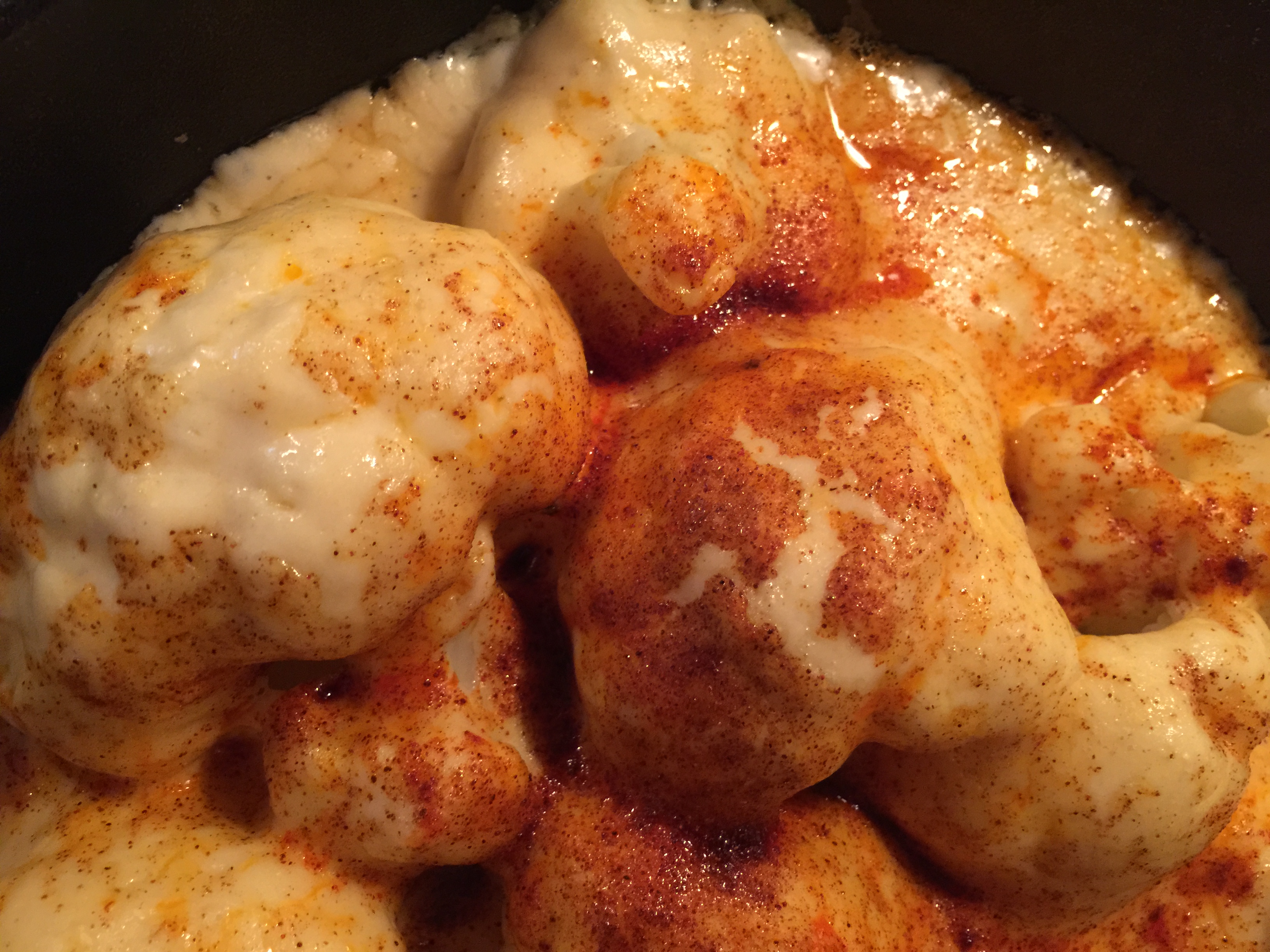 As I (thank goodness!) crawl out of my winter hibernation back into the world, and search for the first snow drops that prove Spring is coming, my cooking will adapt to the new climate.  As we here on the northeast of the US prepare for sunny days, backyard barbecues and long afternoon hikes, I find myself cooking lighter.  This recipe will be one of the last heavy, soul warming comfort food recipes so perfect in the winter, that I will blog about until the Fall.
Don't get me wrong, there is room for foods like mac-n-cheese year round in my repertoire, but as we move outdoors, the kitchen starts to reflect the crisp fresh smells in the air as I use more scented herbs, crispy fresh fruits and colorful raw vegetables that become more easily acquired at farmer's markets and eventually in my own backyard.  As a final nod to old man winter, here is a yummy, heavy, winter side dish (and the best way to serve cauliflower to particularly picky kids).
Ingredients
1 large head of cauliflower
4 tbsp butter (and some to grease the dishes)
4 tbsp flour
1 cup heavy cream
1 cup whole milk
1 3/4 cup gruyer cheese (or any strong cheese like Emantaler, Swiss or Sharp Cheddar)
2 tsps honey mustard
Paprika for sprinkling on the top
Salt and pepper
Preheat oven to 375 degrees.  Butter 4 small gratin dishes or one large skillet.  I used my medium sized cast iron pan which worked great.  Get the water boiling in a pot which has a steamer basket..  Prep the cauliflower by cleaning it and cutting into separate florets.   Prep the cheese by grating it and putting it aside in a bowl.  Steam the florets for 3-4 minutes, then rinse with cold water and pat dry with a paper towel.  Put the florets in the grain dishes or skillet.
To make the sauce, warm the cream and milk until small bubbles start coming up around the top edges.  In a small pan melt the butter, then stir in the flour.  You are creating a roux that will serve to thicken the sauce.  Cook the flour and butter for 2-3 minutes.  Whisking constantly, slowly pour in the hot cream and milk.  Cook for 5 minutes until thickened, and then add the cheese, stirring until melted.  Add the honey mustard, salt and pepper to taste (I used 1 tsp salt and 1/4 tsp pepper) and whisk to combine.  Pour the sauce over the cauliflower and sprinkle the top with paprika. Bake for 20 minutes (checking it at the 15 minute mark).  It is finished when the sauce is heated, and the top is golden brown.