We are close to the hazy lazy summer days of barbecuing, but not there yet.  This recipe was my way of eating yummy German sausages in the winter.  Using my favorite Christmas gift, a cast iron set, I browned the sausages after boiling them in beer, and then used the beer to build a sauce.  It doesn't have the same flavors of grilled meat, but it does have a nice flavor all its own.
Ingredients
3-6 Bratwurst sausages
1 amber or dark beer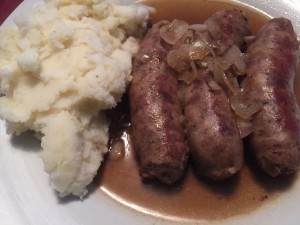 2 tbsp unsalted butter
1 yellow onion (or 3 shallots)
Salt and pepper to taste
Set a soup pot with contents of 1 beer, 2-4 cups water (enough to fully submerge the sausages) and the bratwurst over high heat.  Slice the onion or shallots into thin strips.  Once the pot with sausages starts to boil, turn the heat down closer to medium and simmer for 20 minutes.  When the sausages are almost finished, warm a cast iron pan with a drizzle of oil oil over medium-high heat.  Take the sausage out of the cooking liquid (reserving 1 cup of the liquid for the sauce) and dry off with paper towels.  Brown the sausages on both sides then remove from the pan.
Add in 1 tbsp of the butter into the cast iron pan and melt.  Throw in the onions and salt them.   Cook while moving around with a spatula for 3-5 minutes on medium heat.   Pour in the reserved sausage water, and the other 1 tbsp of butter.  Season with salt and pepper to taste and let cook another 5 minutes while stirring occasionally.
Serve the sausage with the sauce poured on top, great served with peas & carrots and masted potatoes.