Ingredients
18 big shrimp (feeds 3 people, that's how many shrimp eaters I have)
1 tablespoon olive oil
2 cloves garlic diced
2 tbsp butter
Juice and zest of 1 lemon
Freshly ground alt and pepper to taste
Small loaf of Italian bread
Rinse your shrimp and peel off the shell, just keep on the tail shell so you can grab the shrimp to eat it!  Peel and dice your garlic, zest and juice your lemon.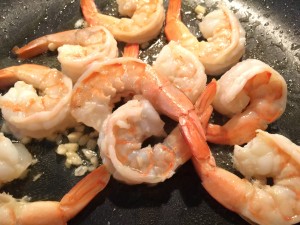 Tip:  I only get de-veined shrimp, I hate to take out those little yucky things myself and it's time consuming.
Warm up the olive oil in a non stick pan (the oil just adds a little flavor) with the diced garlic over medium high heat for 1-2 minutes.  Add in the shrimp and cook on the first side fore 2 minutes (or until pink) then flip and cook for another 1 minute.  Add in the butter, lemon juice and lemon zest and warm through on low for 2 more minutes.  Grind on some salt and pepper to your family's taste.
Secret:  Shrimp is completely cooked once both sides are pink, if you keep heating it, you will be making it tough!
I have some family members that like shrimp, and others who do not.  You can always clean a chicken breast and also cook it in the same way as above, and you will have a nice lemon chicken to serve!
Serve with buttered Italian bread spears and some mixed spring vegetables or peas and barley