We are heading into week 6 of our kitchen renovation.  Desperation breeds creativity, as I try and cook in this halfway completed room!  We are still dealing with a big empty kitchen with just our old ugly oven hooked up, and no counters or sink.  I prep on a chop board on top of a clothes dryer in my laundry room, use a slop sink to do my dishes, and run up and down stairs looking for my equipment that is strewn about the house.  This trying time of living through a renovation is going to make me appreciate my new kitchen all the more
One night I figured I would try my hand at cooking fish in a tin foil packet on the grill, and it turned out great!  My eldest son, who has a sophisticated pallet, gave it 2 thumbs up.  It is one of those nice surprises when you sort of "wing-it" and end up with something good enough to add to a regular rotation of family favorites.  The tilapia is mild, so the herbs, butter and lemon really shine!  This serves 2, in my house we only have 2 fish lovers to cater to so the portion was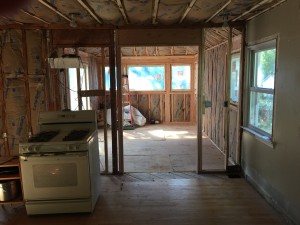 perfect.
Ingredients
2 fillets of tilapia
Salt and pepper to taste
1 lemon
11/2 tbsps soft butter
4 or 5 fresh basil leaves
2 stalks of fresh rosemary
Clean and dry the fish.  Sprinkle salt and pepper on both sides of the fish and lay it on a large piece of heavy duty aluminum foil (use a square big enough to fold over both sides into a packet).  Cut the lemon in thin slices and lay them on top of the fish.  Clean the fresh herbs and lay them on the fish as well (you can also use thyme, lemon thyme, parsley or dill depending on what you have available).  Take the softened butter and pinch little pieces and put a few under the fish and the rest on top of the fish.
Wrap the foil around the fish like a little present, making sure to have all the sides sealed tightly.  Cook on a medium grill for 10 minutes a side, then check for 'doneness'.  The fish should just be white through out, if you see a little pink in the center, put it on the grill for another 5 minutes to complete the cooking.  The fish should be moist, flaky and flavorful.  Just transfer right to your dinner plates.
Nice served with some rice and lemon bean surprise or ginger broccoli