Another quick item I make that can be a part of Mexican taco bar night or just a stand alone appetizer or part of a meal, is the quesadilla.  So easy and versatile, below I have the basic recipe but to this you can add yellow or red bell pepper chunks (just soften them first by sauteing in some canola oil) or jalapeno pepper diced if you like it spicy.
You can make your own fresh salsa with chopped tomato, onion, cilantro and pepper; but, for the truly fast and easy version – use your favorite all natural salsa.
Ingredients:
1 tbsp canola oil
2 tbsp butter
Half of 1 small onion diced
Pinch of salt
14 soft taco shells (makes 7 quesadillas)
1 package shredded Mexican cheese (choose one with a mix of 3 types of cheeses, but without seasoning so you can control the flavors)
Half cup of salsa (I like Tostitos restaurant style medium or any all natural salsa that looks good)
Melt 1 tbsp butter in a very small pot, once bubbling add in the diced onions and sprinkle with salt.  Cook over med-low heat until the onion is soft, if it browns a bit that is fine…should only take 4-6 minutes.
Put 1 tbsp each oil and butter in a large non stick pan and warm over med-high heat.  While it is heating compose your first quesadilla on a plate.  Layer a soft shell first with a big pile of cheese, and then spoon on salsa to taste and drop a pinch of the onions on top.  For the pickiest eater I have to make a version with just cheese and wrapper (boring!)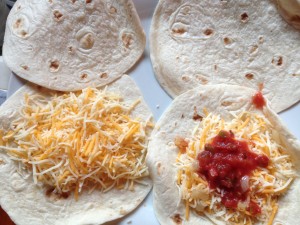 Place this on the hot butter and oil, top with another soft shell and smash with, well, I don't know what to call it.  You could probably weigh it down with a plate, but I use this tool to smash the quesadilla (and also for grilled cheese):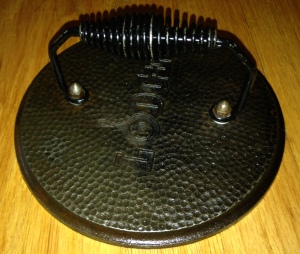 Cook on each side until the quesadilla is browned.  When in doubt, flip it over and check the coloring.  Place the completed quesadillas on paper towels to get the grease off of them.  When you have completed cooking all of the quesadillas, cut them into triangles with a pizza slicer (not until they have set for a few minutes or the cheese will ooze out), then serve warm.
If you are making a bunch of quesadillas, as each is complete, keep it in a warm oven at 200 degrees until they are all ready to serve at the same time.
Dipping sauces like salsa, sour cream and guacamole can be served with these.  If you are making a meal out of it, serve with rice and beans or make it a part of a Mexican taco bar night.
Chicken Quesadillas
Clean, trim and cut 1 pound of boneless, skinless chicken breasts into long slim strips.
Season the chicken strips liberally with salt, pepper, paprika, garlic powder and Mexican chili powder.
Add 1 tbsp each canola oil and butter to a non stick pan, heat on med-high heat until bubbly.
Place the strips into the bubbling skillet (don't overcrowd the pan) and leave them for 3 minutes the first side, then turn them.
Cook the other side another 2-3 minutes, or until the meat is cooked all the way through.
Tip:  Test one of the strips by cutting the thickest part and make sure there is no pink in the middle, should be white through out.
Add the chicken to the recipe above when you are layering the cheese, salsa and onions.