We drink shakes all year round, I actually keep the blender on the kitchen table ready to go any day – but in the hot lazy days of summer they make the most sense.  To honor the last day of the summer, I will share one final shake with you, and one particularly suited for Labor Day celebrations.
Ingredients:
2 cups frozen tropical fruit mix (or 1 cup fresh pineapple, 1/2 cup fresh slices of mango and 1/2 cup fresh trimmed strawberries)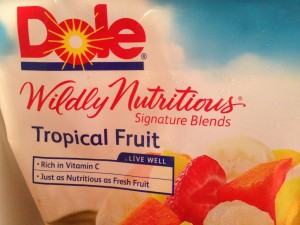 1 cup pineapple juice
1 cup coconut water (or tap water)
2 small Greek yogurts (preferably mango coconut or pineapple flavor…but vanilla would also work)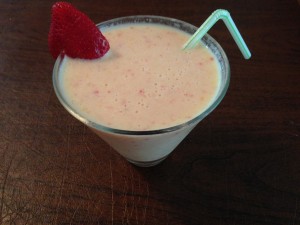 Blend all of the ingredients above on ice crush for 20 seconds or until you can hear that the frozen fruit pieces have been thoroughly crushed, then another 10 seconds on puree.  Pour into glasses and serve,
Tip:  A fancy glass, umbrella or straw can go along way!
Tip for Mom and Dad:  A little spiced rum or Malibu would work nicely with this shake to make an end of summer toast (and 'thank goodness school is starting again', toast while you're at it!)