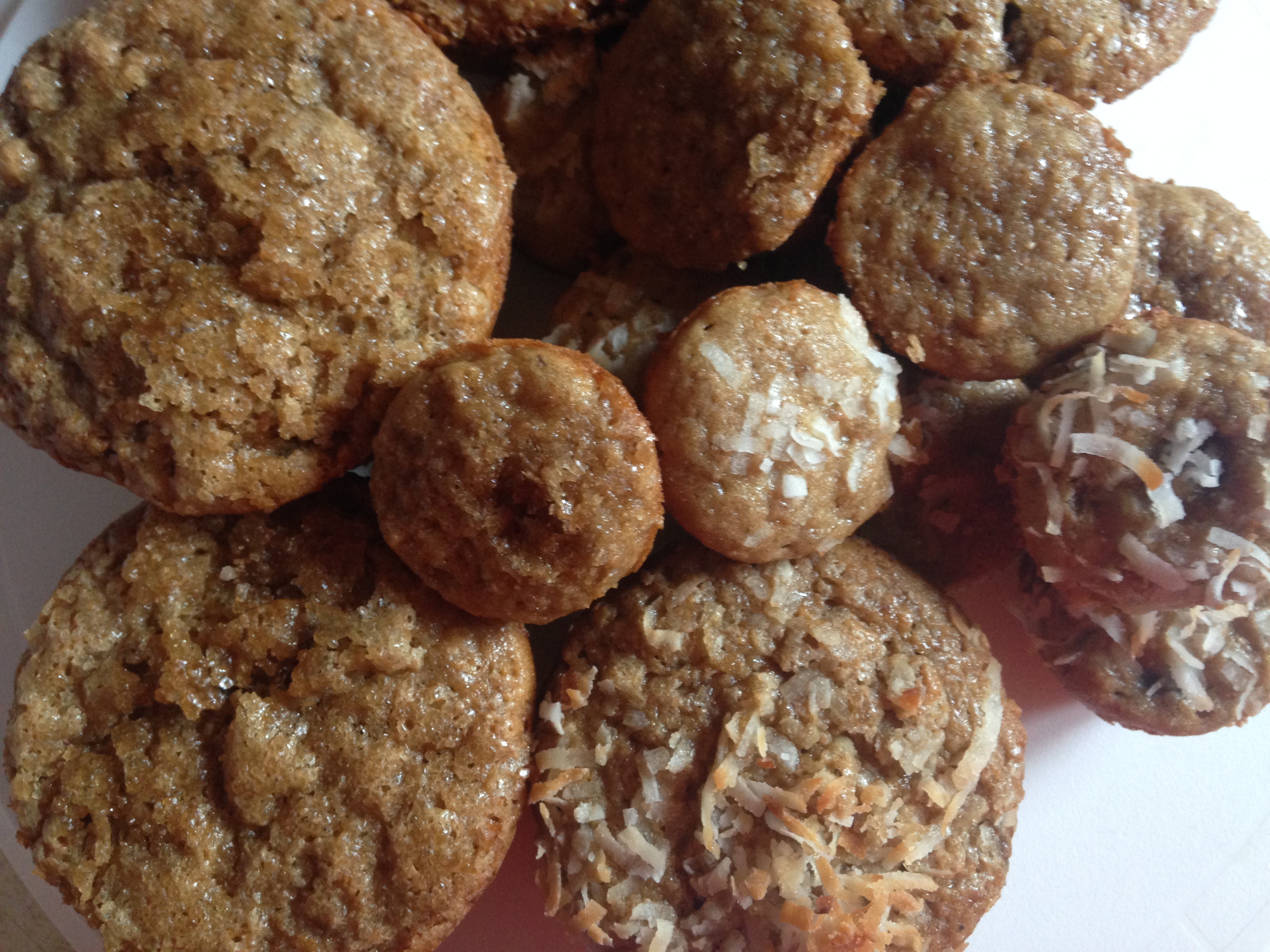 Before I had the kids, and it was just my husband and I, we were always sitting on over-ripe bananas with black spots all over them and no one to eat them – so banana bread was almost a weekly event.  That has all changed recently.
Now I buy a bunch of bananas and they move pretty quickly between cut fruit and shakes.  However, I now have a new appreciation for small snacks to give the kids for day trips and in school lunches.  So I updated the bread recipe and I create yummy muffins by adjusting some of the ingredients.  It can work for bread or muffins now and is more of a sweet and healthy treat.
Ingredient List:
4 large bananas (2 cups when smashed)
2/3 cup vanilla yogurt (I use organic Stoneyfield low fat vanilla or banilla flavor)
3 cups all-purpose flour
1 cup whole-wheat flour
4 tsp baking powder
1 tsp baking soda
1/2 tsp salt
1/2 tsp ground nutmeg
1 tsp cinnamon
Grated zest of 2 large oranges
1/2 cup chopped walnuts toasted
Tip:  Just put the nuts on a cookie tin in the preheated oven for 4 minutes, then cool them.  It brings out the flavor.
1 cup chocolate chips (we used mixed dark, milk and white chocolate last time, since that is what we had in the house) 
4 large eggs
1 1/2 cup firmly packed golden brown sugar
12 tablespoons unsalted butter, melted
1 cup whole milk
Optional toppings:
1/2 cup *Demerara sugar or sweetened coconut flakes
Position 2 racks in the middle of the oven, and preheat to 350*.  Butter and flour muffin tins or 2 9X5 inch loaf pans if you prefer making bread.  I made 12 large muffins and 24 mini muffins using the above portions, just half the ingredients if you need to make less.  It is a bit of effort so I figure I will make a bunch of them, some for now, save some in the freezer for later and give some away!
In a small bowl (I use a 4 cup pyrex measuring cup), using a fork, mash the bananas.  You should have 2 cups.  Add the yogurt into the bananas.
In a separate medium sized bowl, stir together the all-purpose and whole wheat flours, baking powder, baking soda, salt, nutmeg, cinnamon, orange zest, nuts and chips.  Set aside.
In a large bowl combine the eggs, brown sugar, butter and milk with a handheld blender.  Beat on medium-low speed just until blended.  Add the dry ingredients in 3 batches alternately with the banana mixture and blend on low speed just until combined.  Do not over mix.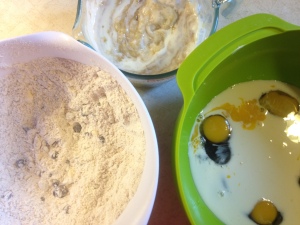 Pour the batter into the prepared pans filling about 3/4 the way to the top of the muffin pans, and if making bread then smooth the top with the rubber spatula.  For a cool topping sprinkle Demerara sugar that will caramelize during baking or sweetened coconut that will get golden brown.
Bake until toothpick inserted into the center comes out clean.
Mini muffins:  15-17 minutes
Large muffins:  25-27 minutes
Bread:  55-60 minutes
Transfer to a wire rack and let cool in the pans for 5 minutes, then turn out onto the rack and cool completely.  For the muffins, run a thin butter knife around the edges to help coax them out.
Store in an airtight container at room temperature for 2-3 days or freeze for up to 1 month.   Makes a great gift for a sick friend, good for bake sales or a nice surprise for helpers in your life (think babysitters, house cleaners, teachers).  Craft stores now carry bakery boxes with clear tops that are very decorative, usually used for cupcakes.  You can fit 4 large muffins instead and it makes a nice little treat for someone who appreciates homemade gifts.
*Some info on Demerara sugar (you should find it in your local store in the baking aisle):
"Demerara" refers to the place in Guyana where this type of large-crystallized sugar first originated many years ago.   Demerara is a light brown, partially refined, sugar produced from the first crystallization during processing cane juice into sugar crystals. Unlike brown sugar, which has the added molasses, Demerara has a natural caramel-like flavor. Demerara sugar is also referred to as Turbinado sugar in many places.  Its large, sparkling champagne-colored crystals make it a terrific, crunchy topping on cookies, cakes, and desserts. It is also fantastic on grilled fruit, sprinkled on melons, and especially good in iced tea. In England, Demerara sugar is the traditional sweetener for coffee.
Read more: http://www.care2.com/greenliving/what-is-demerara-sugar.html#ixzz3Caf5flZF