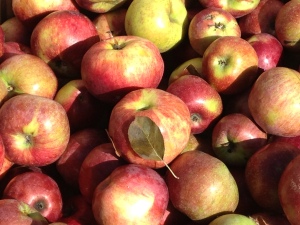 One activity our family enjoys every year is a trip to the apple orchard.  We are fortunate enough to live near many places where we can go apple picking, so for the enjoyment of the adults in the group I choose a farm that also has a winery, live music and a pizza restaurant on site.  Something for everyone.
Look at how excited the kids are to go after their own food!
Why I love this day trip is that we get fresh air, time together (without a TV or IPad in site!) and we all learn something.  Who knew there were so many kinds of apples?  I didn't.  Who knew how crisp and sweet an apple right out of the tree could taste?  I now remember! The kids learned how difficult picking apples from a tree can be, so they may have a new appreciation for their morning fruit, time will tell.
There were also tons of pumpkins around, a hay ride and we met some new friends as well.  I highly recommend taking kids to the orchard, to a farm of some kind, or at least to a farmers market if you are in the city, and discuss the origins of the food we put onto our table (Before the grocery store).  The week after we were at the orchard, we made apple pie, apple sauce, apple sauce cake, and have more ideas in the pipeline!
Apple picking was more than educational, it made for a brilliant day out for us all to create new food related memories in the sun.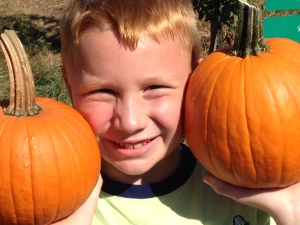 Stay tuned…it's only a couple of weeks from now this busy Mom and Dad will be going to the Wine and Food Festival in NYC!  I will share all the details of this very adult autumn food adventure, as soon as I have them.