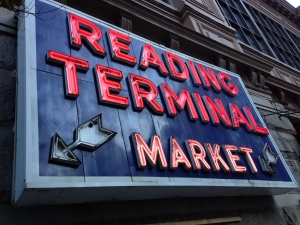 Wow!  What a day!  The whole family piled in the car early this morning, and made the trek to Philadelphia so mommy could try out for the Next Food Network Star, and we spent the rest of the day rambling around a favorite of mine, The Reading Terminal Market.  I find out in 24 hours if I am on to the next round or not, either way our family enjoyed the day.
I first had to fill out an extensive online questionnaire, which was crazy with the essay questions.  At one point I typed that we should be going on our first date by now as the reader would know so much about me!  I was asked for personality descriptions, how I handled the most stressful time in my life, my food training, point of view, favorite and least favorite ingredients and cooking styles, etc, etc, etc. Exhausting.
But once at the hotel I was relieved to be # 24 in line, and I only arrived an hour early.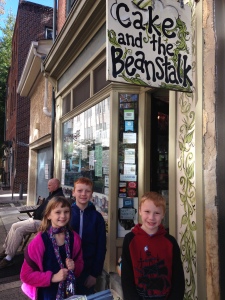 The casting was from noon to 3:00 and I would guess only around 100 people or so showed up.  We met some lovely folks on line!  One guy is the owner of a great little coffee and bakery shop we later went to called 'Cake and the Beanstalk' located on 1112 Locust Street.  I had an amazing chocolate and peanut butter cake and my kids just loved the pumpkin ice cream.  The others we met were a sweet couple from Cleveland, who helped us entertain our kids.  The husband was there to try out, Robert, who is a tapas chef at Relish, modern tapas in Mason, Ohio.
After the 5 minute interview was complete, conducted by a casting agency (yes, we drove for hours for a 5 minute interview, oh my!) we headed to the Reading Terminal Market.  On the walk to the Terminal we enjoyed the many public artistic expressions the city has to offer, from murals to statues.  Every building built since the early 1970s must allocate a portion of their budget to art, per law.  That is why Philly is so filled with beauty.
The Reading Terminal was amazing.  Similar to the Wine and Food Festival in NYC, I felt I was with my "people"!  I had such a blast.
Some highlights:  The yummiest grilled cheese EVER at Valley Shepherd Creamery click here for more info:  Meltkraft.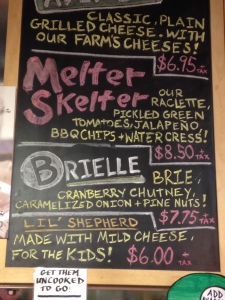 I had the Briele which was amazing and included caramelized onions, Brie cheese, pine nuts and cranberry chutney, I never had anything like it.  My son had the kid's mild cheddar and it was one of his favorites, and my daughter loved the homemade potato chips and fresh mozzarella sandwich,  I highly recommend this place.
I also had the opportunity to stop by a favorite stall, the Cook Book Stall.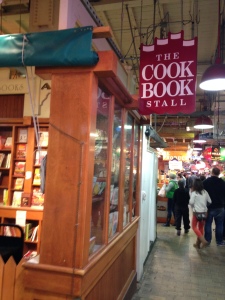 It is a dream of mine to have my first book sold at this stall sometime soon!  I have 2 other real favorites, a new stall I discovered that is a cook's and baker's utopia:  The Head Nut and my favorite discovery of our last trip, Chocolates by Mueller.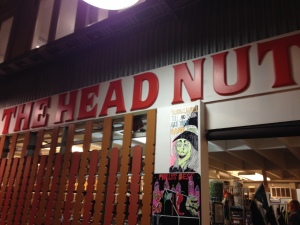 The Head Nut has everything you could imagine, including spices, colored sugars, nuts of course, loose teas and unique flavored chips for cookies.  I bought so much for so little and it is all unique.  The ladies at the register were so helpful and knowledgeable!
I mean where will you find 4 Madagascar vanilla beans for $20?  At the grocery store that will get you ONE Vanilla Bean!
My favorite chocolate around, comes from the Chocolates by Mueller, where they make the tower of chocolate.  It has a peanut butter cup, then a marshmallow, then an oreo, a chocolate chip cookie and as the base a rice crispy treat, all enrobed in freshly made milk chocolate.
Beyond ridiculous for this chocolate fan, and I have only ever seen it at "Chocolates by Mueller"!  The perfect way to end the perfect day!
Update:  My chocolate tower of hope has toppled!  It has been 48 hours since the tryouts and I didn't get a call, they had promised we would know in 24 hours.  I guess in the 5 minute interview I wasn't able to sell myself as The Next Food Network Star, or maybe I wasn't what they were looking for in Season 11!  🙁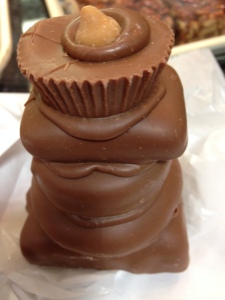 So happy we enjoyed the day and that I went for it.  It was a great experience.   I know that I belong in the Food world, so I will keep following the food, wine and desserts no matter where they lead, at least I know I will enjoy the journey.   As I continue to Blog, work on my cookbook, and search out food adventures, I hope you will come along for the ride!