What a wonderful time I had on Arthur Avenue, it was like I was walking through the streets of Italy, you could just feel the history of the place.  Within 5 minutes of entering the 'Arthur Avenue Retail Market' (located 2344 Arthur Ave), a lovely Italian man approached my friend and I, and asked if we were sisters and proceeded to shamelessly flirt with us!  He was from Italy, having arrived in America mere months before. In contrast to the fake Italian accents we get from waiters in NJ Italian restaurants, this guy was the real deal, with an authentic accent and the romantic Italian mannerisms and affectionate nature.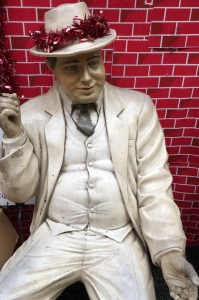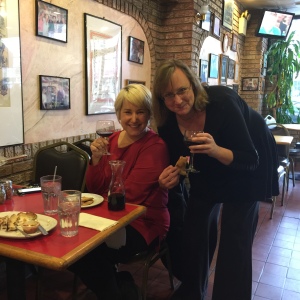 Let's face it, whenever this 40 something year old women gets treated like a 20 year old 'babe', it's a good day.   This whole little neighborhood down Arthur Ave. and then 187th Street is steeped in history and oozing of Italian warmth and generosity, high energy and the hustle and bustle in the shops that I remember while touring around Venice, Florence and Rome in my youth (only here you do not need a passport.)
In the Arthur Ave Retail Market, there is a stand where you can watch people hand rolling cigars, something I had never seen.  There were many shops to visit, and one that jumped out at us was Mike's Deli (2344 Arthur Ave, run by Michele "Pops" Greco and son David) where the barrels of olives and pepperonis, flavored oils and meat selection was impressive.  This deli was started in the 1960s, and has since become an institution.
You can pick up a copy of the Arthur Ave cookbook at Mike's Deli, which details the amazing stories of the families who started these shops.  And of course you can pick up a sandwich, but I had my heart set on pizza.
Mike's Deli was only the start, it was time to sit, eat and experience Little Italy through the flavors.  It has only now been 20 minutes since my arrival at this Italian escape, and I found myself being treated to red wine and meatballs at Giovanni's of Arthur Avenue (2343 Arthur Ave.)  I am sure there are going to be many opinions of where to get the best pizza on Arthur Avenue.  Is it Marios? Catanias? Tony & Tina's? Giovanni's?  I can't tell you definitively, since I didn't have the time or hunger to try them all.   However, I can tell you where to have a wonderful experience and great Calzones:  Giovanni's.
The wait staff were very friendly and attentive, as was our host Giovanni.  The wine was perfect – a light house red, and my friend really enjoyed her margarita pizza as well.  The meatballs were very meaty, as opposed to the ones you generally find at average pizzeria's that tend to be heavily breaded.
Giovanni had come to this country as a kid decades ago, and relatively speaking for the block, he was still the new kid, having only owned his pizzeria for 20 years.  Other stores in Bronx Little Italy have been owned by the same families for generations!  My next stop was a good example, Biancardi's meats, which opened before WWII.  Our second destination, Teitel brothers, opened their doors in 1915.
With a full belly, I was on a mission now, to find amazing meats, oils, cheeses, pastry, and pasta – and it was time to hit the pavement.
Best Butcher – Biancardi Meats, 2350 Arthur Ave.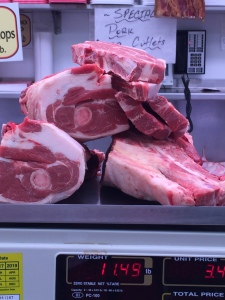 Biancardi Meats is a 'full-service butcher'.  I didn't really know what that meant until I did some research.  A full service butcher does all the cutting and breaking down themselves.  Biancardi Meats offers many specialty meats as well.  There were tons of guys working behind the counter, so I would imagine they would be able to provide any cut of meat and be very attentive to special needs.  The most fascinating part to me of this shop, and all the others we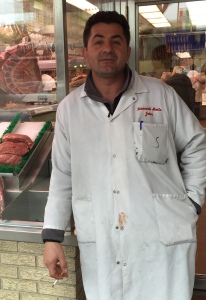 were to visit, is that the family has been doing this particular art for generations.  I picked up some sweet sausage with and without fennel and some lamb chops, and could tell they were top quality.  Next, we were off across the street to Teitel Brothers, to check out what we heard were wholesale prices on Italian specialties.
Great Priced Packaged Goods – Teitel Brothers,   2372 Arthur Ave.
Started by the Teitel family, who immigrated from Austria and became one of the few Jewish merchants in the neighborhood in the early 1900s, this shop was crammed with a huge assortment of Italian treats.
Teitel Brothers' has a large mail order business, but you need to actually go there and experience the energy of the store.  I loved being a part of the organized chaos, and was impressed by the rows and rows , floor to ceiling of well priced assortments of Panatone.  There were all kinds of goodies like figs and beans that were stored in cans, and just when you thought you had seen everything, you look up and items are literally dangling from the ceiling!
Within only a 10 minute visit, I met a lovely couple, found a great priced organic olive oil to purchase, and had an adventure on line to pay.  I was so confused I may have cut some people off (more likely they cut me off since I was clueless).  While on line, half the fire department came up behind me in their uniforms, and I just tried to focus on figuring out when it was my turn to pay, and avoid looking in awe at these tall, brave souls who seemed larger than life.  It was more than shopping, it was being a being a part of something.  I purchased a large bottle of organic first pressed olive oil for only $11.99, and was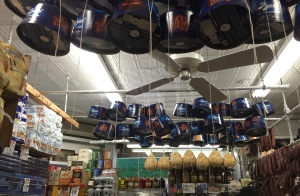 tempted to buy much more since the prices were so great and wanted to try the sausages after hearing how famous they are on line…maybe next time.  I had my agenda, and next up was cheese…
Fresh made cheese – Casa Della Mozzarella, 604 East 187th Ave.
Our next stop was cheese heaven, and we were both excited.  The inside of Casa Della Mozzarella was the smallest store I have ever seen, so incredibly narrow.  We had the unfortunate timing to walk into the store when a delivery of artichokes had just arrived.  The entire store had to vacate to make room for the delivery guy pushing his shrink wrapped cans.  The funny part is, right away I thought how closed quarters almost turn you into instant family, especially in Little Italy!.
Once we got to the head of the line and I realized that the huge wheel of Parmesan was priced better than the rubbery stuff at the grocery store ($14.99 per pound) I knew I found the right place.  I picked up a pound of the Parmesan and a large ball of their house made mozzarella.  I would love to watch them make it some day, it is a fascinating process of stretching and pulling the curds into cheese.  After all this heavy lifting it was time for a treat, so on to the pastry shop we went.
Lovely Traditional Pastry – Delillo's Pastry, 606 East 187th Street
My friend and I sat down to a well deserved treat of hazelnut chocolate gelato, so rich and thick I thought I died and went to heaven.  I knew I needed to bring some treats, so ordered assorted cannoli for the family.  I learned about how Dellilo's Pastry makes the traditional torrone at the holidays, the white nougat candy traditionally served at Christmas (pictured above).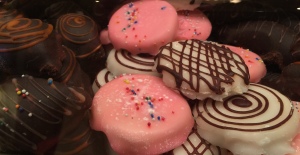 They also had colorful fig and assorted cookies (pictured right) and a wide variety of Italian favorites.  The family gave two big thumbs up for the cannoli, we tried all the varieties:  Chocolate covered shell, plain shell, vanilla filling and chocolate filling.  They flew out of the boxes and into their mouths in minutes flat (warning – buy way more pastry   than you think you need, they go fast).  Next stop pasta.
Fresh Pasta – Borgatti's Ravioli & Egg Noodles Since 1935                632 East 187th Street
This was the 'show' I was most excited about, watching my pasta cut right in front of me.  It is amazing how so many of the stores were actually started during a time of financial depression in this country.  I imagine if you survived those hardships of depression and made it through a World War, you were pretty sure nothing could take you down after all that.   The people we met were so nice, and seemed to like the idea of my blog.  It was quite an experience to watch the pasta process, and I can't wait to eat my cheese raviolis.  Last summer my neighbor brought the family a big dish of ravioli when I was recuperating from surgery.  It was the most flavorful ravioli ever, and had the softest texture – so I was not surprised when she told me she had bought the ravioli at Borgattis!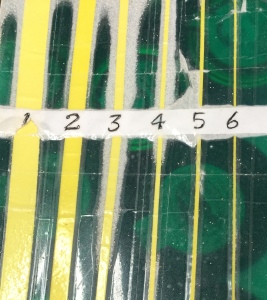 I requested fettuccine noodles, and was shown a cardboard sheet with different numbers (see photo right) and I had to order the exact thickness I wanted (I chose # 3).  Then I was shown how they take the sheet of pasta and using original equipment (I believe some of their current equipment was bought as used equipment in the thirties!  Nothing lasts like that anymore) they cut the pasta, tossed it with some cornmeal and then package it up in paper.
Very interesting seeing the pasta drying on a rack hanging from the ceiling, and to meet these really kind people who run the shop.  I will definitely be back!
We ate the pasta last night with my homemade meat sauce, and the family loved it (including my pickiest eaters).
You can definitely tell the difference between fresh pasta and dried.  Fresh pasta has a nicer texture, holds onto the sauce well and seems more substantial.  I swear, you can taste the love in their handmade pasta!
Authentic Italian Bread – Terranova Bakery, 691 East 187th Street
There are a few bread stores in the neighborhood, offering fresh baked bread or Pani de Casa (house bread) including Addeo Bakers, Arthur Avenue Bread, and Madonia Brothers Bakery.  However, at the recommendation of my neighbor (who is a fabulous cook and baker herself) we chose Terranova Bakery.  It is located another block or two down from the pasta shop, but worth the extra walk.  I purchased beautiful large round loafs, as well as black olive loaf that were crispy on the outside, tender and fluffy on the inside, clearly made with the finest ingredients, yet still reasonably priced.   The ladies waiting on us were so friendly.  Someone found a dollar bill on the floor while waiting in line and tried to give it to the lady at the register and she insisted he keep it.  She wouldn't think of taking that from him, which is more unlikely that he offered it to her or that she refused it.  Wow, and we are in New York?
I cut the large bread into 4 big chunks and froze them in big freezer bags.  I have since taken some down, thawed it in the fridge for a few hours than popped it into a 350 degree oven wrapped in foil to warm through.  It tasted like it came right out of the bread oven, and it tasted of Italy.
Once I run out of bread, I think I will need to make another trek to Arthur Avenue.  I am now spoiled and could see eating bread from the grocery store again!
Please use the comments section to share your favorites in Bronx Little Italy, I am already planning my next trip and need ideas.