This is the first in a real time series discussing my kitchen renovations, it is April now and we are only starting the process!
Part I:  Commitment to a new Kitchen (April/May)
Don't you hate when families who don't cook have amazing chef's kitchens?  I do.  Because I am jealous!  I have been baking since I was a little girl, and cooking for many years in one small kitchen after another.  When my husband and I, after years of marriage, finally came up with the money to create a fabulous kitchen in our first house, it was so wonderful, but short lived.  We happened to coincide the kitchen 'reno' with starting a family.  After our son was born, our growing family started out-growing our Cape Cod style home.
Steve and I were 7 years married, and instead of the 7 year itch causing my eyes to wander noticing other men… it got this new mom's eyes looking for a new house to cheat on.  Less scandalous but a whole lot more expensive!  As is the case with most things I really put my mind to, I found the perfect second (and hopefully forever) home.  The only thing I was sad to leave (besides our neighbors who we still miss) was the kitchen.  What was I thinking?  This new house had tons of space to grow into, was in great shape and just needed cosmetic updates that Steve could make, however, the kitchen was a sad, small, outdated space.  Of course my "deal" with Steve was that I only wanted to buy the larger house I found if we promised to update the kitchen.  It was a serious deal at the time.
Not too long after, we closed on the house, updated the floors and stripped the walls of the very busy wall paper, moved in and started trying for a second child.  The house was good luck, not only did we get pregnant soon after, but it was with twins.  With that kind of financial responsibility, I knew the kitchen would need to wait.  So for the past 10 years I have not only cooked and baked from scratch in a small chopped up 10' X 10' kitchen, but completed the first 150+ pages of this cooking blog and completed the content of a first cookbook (which is now being designed).  It hasn't been
horrible, it has been a happy time with the growing kids, loving husband and great meals.  Lately though, I just can't stop wondering if there isn't a better way.  I currently have most of my ingredients downstairs in a pantry in our Family room, most of my big equipment either in the Family room or in the basement, and I am forever out of counter space.  I literally have to clean up after every little task to make room for the next one.  When I bake, it is on the dining room table.  Not the best situation.
Over the past 3 months my wheels have been turning, as my husband has been panicking.  I go to sleep dreaming of a renovated kitchen, and wake up dreaming of granite and hardware…as my husband has nightmares of money flying out the window!  I have soothed Steve, by reminding him that we are only getting quotes, investigating, seeing ideas and drawings.  It has helped that we didn't really spend any money for the initial design sessions and consultations.  But as of today, we have officially spent the first $350 on this project, so now it gets real!   Today, we had the architect over measuring for his drawings.
We have agreed, after much deliberation, to have the kitchen expanded into the old dining room.  Since we host most holidays, and eat dinner together every night (even if it is a 20 minute 'quicky' before piano or baseball) we knew we needed a dining room.  That created essentially a whole second project, to take our 1940's style porch and winterize it, to use as a dining room.  So, our kitchen update has ballooned into a major renovation of kitchen, dining room and porch (even a bit of work will be done in the living room so that we can have the entire floor match, with newly stained oak floors and modern lighting throughout the new "open concept").
Last summer, while recuperating from foot surgery, I watched Food Network on a loop (but of course) until one day, I keyed the channel numbers incorrectly into the remote, and landed on HGTV by accident.  I kept it going, and by the end of the day I had become addicted to all the Canadian "reno" shows like Property Brothers and Love it or List it and the California show "Flip or Flop".  I spent the final days of recovery watching all manner of home transform from old and warn out to shiny and new!  I think that my now obsession with HGTV is to blame for this massive renovation!   Although I am super excited to live in an episode of HGTV, I anticipate some issues….on TV the painful part of the reno only lasts 23 minutes, but in real life the pain will be endured for weeks or even months!
I will keep you posted as we move forward with this renovation, in case you too would like to take this path and want to know what is involved.  Since January we have gotten two kitchen designs, two contractor quotes, started working with the architect due to the fact we are pulling down walls and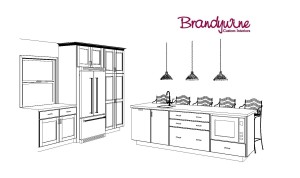 enclosing porches, and have been to appliance stores and gravel yards every weekend.  I have worked through designs with Brandywine Custom Interiors, and landed on a functional and pretty lay-out (see drawing).  We have already invested a lot of time, but for me it has been fun.  It took us 3 trips to appliance stores to settle on our list of reasonably priced yet "cheffy" equipment we will purchase from Karl's appliances.
I am not excited for living in a reno zone, but we are all looking at this as a big adventure, my daughter even said we should treat it like a camping trip and have fun with it.  Somehow I think that is the right attitude, but you and I know it will be a challenge.  Keep you posted!