This was the dilemma, I came home on a Friday night all set to go out or get a pizza, and there in the fridge staring me in the face was a packet of turkey cutlets with sold by date about to expire.  There goes my plans right out the window!  I have one recipe I love for turkey cutlet (breaded cheesy turkey) but it is a bit too time consuming for a Friday night.  So I put together this little ditty, it is quick and tasty too.
Ingredients:
1 packet of turkey cutlets
1 tablespoon butter
1 tablespoon olive oil
1 cup Wondra flour
1 tsp coriander
1 tsp salt
1/4 tsp pepper
1 large orange (zest and juice)
1/4 cup Brandy (if you don't have it you can use chicken stock or white wine)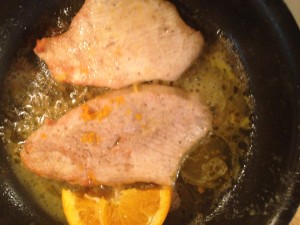 Cooking the turkey breasts
Put a non stick pan on medium-high, add the butter and olive oil and allow the butter to melt.  Clean and trim the turkey, then pat dry.  Put the Wondra flour and the seasoning together in a bowl and whisk together.  In a Gallon Ziploc Bag add the seasoned flour then put the turkey cutlets in the bag and coat.
Brown the cutlets in the pan on both sides, usually takes 3-4 minutes on the first side, then 2-3 minutes on the second.  Add the zest, juice, and brandy and cook for 5 minutes or until the alcohol is cooked out and the turkey is white through the center (cut into the thickest cutlet to check before serving.)
Great served with rice and peas & carrots or asparagus and rice