As I sit here and prepare in my mind for Thanksgiving dinner (I will be serving 10 this year) and watch 'Elf' (since I started bringing down the holiday stuff early, to my hubby's chagrin)  I can't help but wonder:   No matter how much love and attention is spent on the turkey and side dishes, all the glory lies in the the quintessential pumpkin chiffon pie!  It steals the show, and it is all thanks to my lovely Aunt Polly who started the tradition a million years ago.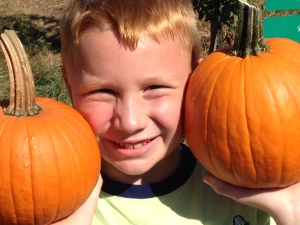 I have made 2 pies every year for decades, I believe that once you make this pie you will keep it as one of your family staples as well.  The typical pumpkin pie is bright orange and strangely gelatinous.  This one is fluffy, spicy and perfectly silky.  Try it, you'll never go back to boring pumpkin pie or pumpkin cheese cake or any other variety of pumpkin confection.  This will become the family's favorite and you can be the Aunt Polly who started the tradition!
I always make two pies at once when doing this recipe – so below reflects enough of everything for two pies.  I used to make two and give the second pie away, but now that my direct family includes 5 members, I am making 2 pies and know they will disappear quickly.  This is the smell, texture and taste of Thanksgiving to me.  Besides the turkey, mashed gravy, fruit cup and stuffed dates, this is the star of the day!  Even if you aren't a big fan of boring, old, normal pumpkin pie, you are sure to love this light and fluffy version.
Ingredient List
2 Envelopes gelatin
1 ½ cups granulated sugar
1 teaspoon salt
1 teaspoon cinnamon
1 teaspoon allspice
½ teaspoon ginger
½ teaspoon nutmeg
1 ½ cups whole milk
4 eggs separated
2 cups canned pumpkin
1 cup heavy whipping cream
 For 2 Crusts
2/3 cup butter
½ cup sugar
2 ½ cups finely crushed graham crackers (about 36 or buy the already crushed ones) or ginger snaps or Biscoff cookies
Mix 2 envelops gelatin, 1 c sugar, 1 tsp salt, 1 tsp cinnamon, 1 tsp allspice, ½ tsp ginger and ½ tsp nutmeg in a medium saucepan.  Then add 1½ cups milk, 4 slightly beaten egg yolks, and 2 c pumpkin to the dry ingredient.  Heat the mixture until just boiling and gelatin has dissolved.  Cool in refrigerator until gelled.
After mixture is almost cool, then make the crusts: melt butter then stir in sugar. Next add the crushed graham crackers and mix well.  Spread evenly into two 9-inch pie plates, pressing into bottom and sides with your fingers to form a firm, even crust.  Bake in a 375* oven for 4 to 5 minutes or until edge is lightly browned.  Cool on a wire rack before filling.
Next make the meringue in a large glass or copper bowl: Beat 4 egg whites until soft peaks form.  Then add ½ c sugar and beat again until hard peaks form.
In a medium bowl make the whipped cream: With electric beaters beat the heavy cream in until thick, but be careful not to overbeat or the cream will start to break apart.
Fold small amount of pumpkin mixture into the meringue to darken it a bit, and then fold in the rest of the pumpkin mixture. Fold the whipped cream into pumpkin/meringue mixture.  Make sure not to take out the air, only fold (don't stir).
Pour completed pumpkin chiffon into the cooled graham cracker crusts and chill.
Best served at Thanksgiving with whipped cream, but my twin son requests it all year round!