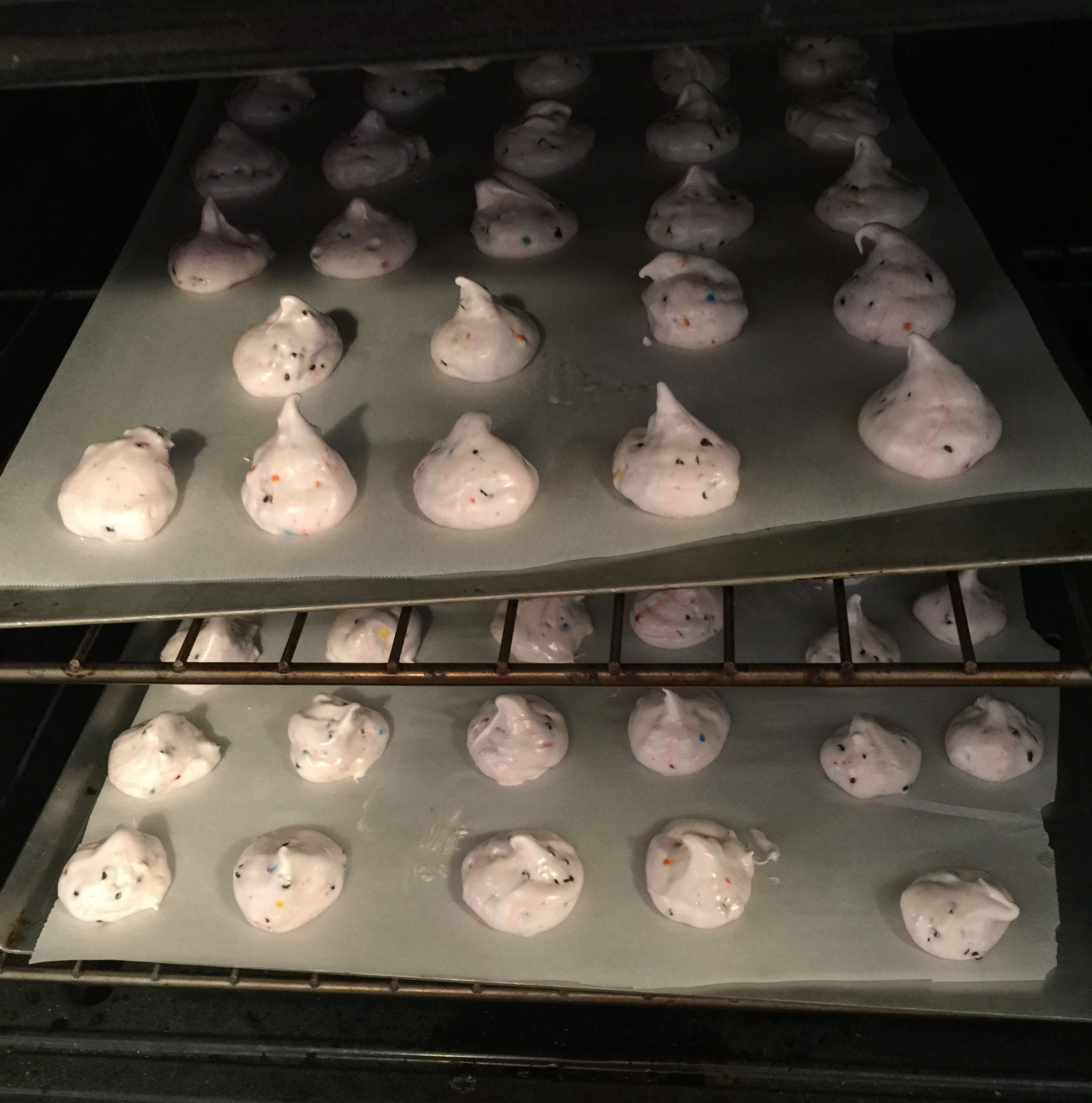 I love these because they are unique and easy to make.  The only drawback is they are not great for freezing, so the day I am going to give out my cookies I make these at the last moment.  They are also messy to make the cookies on the trays (parchment is NOT an option for these it is necessary).  I will cut the bottom of an icing piping bag or large zip lock back and pipe them out of a round opening onto the tray to make them look nice with a tip on each.
A teaspoon can be used to drop them onto the sheet.  You will get your hands sticky either way!  And for this one, I triple the recipe and get quite a few cookies,  but they don't have to be spaced much since they don't expand like most cookies will, so they will all fit on 4 trays and you can cook 2 at a time.
Ingredients
2 egg whites
1/8 teaspoon cream of tartar
1/2 cup sugar
1/4 cup miniature semisweet chocolate chips
1/4 cup colorful mini chips or other decorative colorful small chips (I found the mixed color mini chips at Reading Market in Philly)
1/4 cup finely crushed hard peppermint candy canes Tip:  A typical box of candy canes, crushed is close to one cup, so crush 2 at a time and measure as you go if singling the recipe
Preheat oven to 250 degrees.  Line cookie sheets with parchment paper and set aside.  In medium mixing bowl, combine egg whites and cream of tartar.  Beat at high speed of electric mixer until soft peaks begin to form.
Add sugar, 1 tablespoon at a time, while beating at high speed.  Beat until stiff peaks form (see below).  Fold in chips and candies.
Drop by rounded teaspoons, 2 inches apart onto prepared cookie sheets.  Bake for 25 to 35 minutes, or until dry.  Cool completely before removing from parchment paper.
Secret:  I usually know they are ready when a few of the tips are slightly light brown, and if you try one it is dry and crisp, not chewy.
Tip:  Egg whites should be at room temperature when you beat them, to produce greatest volume