What a cool thing to make during a snow storm, and here in the East Coast of the US, we are in for a doozy tonight!  This is so much easier than making separate cookies, and so much more satisfying on a cold winter's day to eat.  It is somewhere between a cookie and a cake.  Tastes great with or without coconut, and use whichever chips you prefer, next time I might try butterscotch chips instead of the milk chocolate ones or peanut butter chips instead of the dark chocolate for a fun variation.
Ingredients
12 tablespoons butter softened
2/3 cup dark brown sugar
1 cup granulated sugar
2 large eggs
3 tsp vanilla
1 1/2 cups all-purpose flour
1/2 cup whole wheat flour
1 tsp baking soda
1 tsp salt
1 cup dark chocolate chips
1 cup milk chocolate chips
1 cup chopped pecans
Tip:  I always roast nuts in the oven at 350 degrees for 4-5 mins, then let them cool (it brings out the oils and adds to the flavor).
1/2 cup sweetened coconut flakes (optional)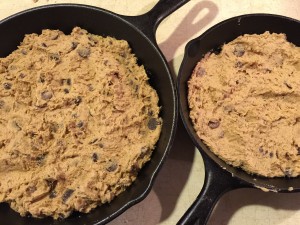 Preheat oven to 350 degrees. Chop the pecans and heat them for 4-5 minutes. Cream the butter and sugars in the bowl of a standing mixer or in a large bowl with a handheld mixer.  After well combined, scrape down the sides of the bowl, then add the eggs one at a time, while mixing on medium.  Pour in the vanilla and combine on medium speed.  I pass the flours, baking soda and salt through a fine mesh sieve shaking it through into a medium bowl, this is my way of sifting the dried ingredients.
Add the flour combination into the butter mixture slowly, while beating on low speed. Mix the chips, nuts and coconut in with a wooden spoon or on low speed if you have a strong enough blender to handle it.
Pour the mixture into 2 cast iron pans as I did, or into a lasagna dish if that is what you have on hand.  Just make sure the dough is only 1-2 inches thick so it has a chance to cook all the way through without burning on the bottom.  For the cast iron pans the small pan was cooked to golden brown in 20 minutes, and the larger pan took about 23 minutes.  If you use a large lasagna pan, just check it at 15 minutes, then every 5 minutes or so until the top is completely golden brown.
Great to eat while hot topped with French vanilla ice cream, fresh whipped cream or salted caramel gelato!  If you cut into it before it cools it will be very chocolaty and gooey (see photo to the left)!