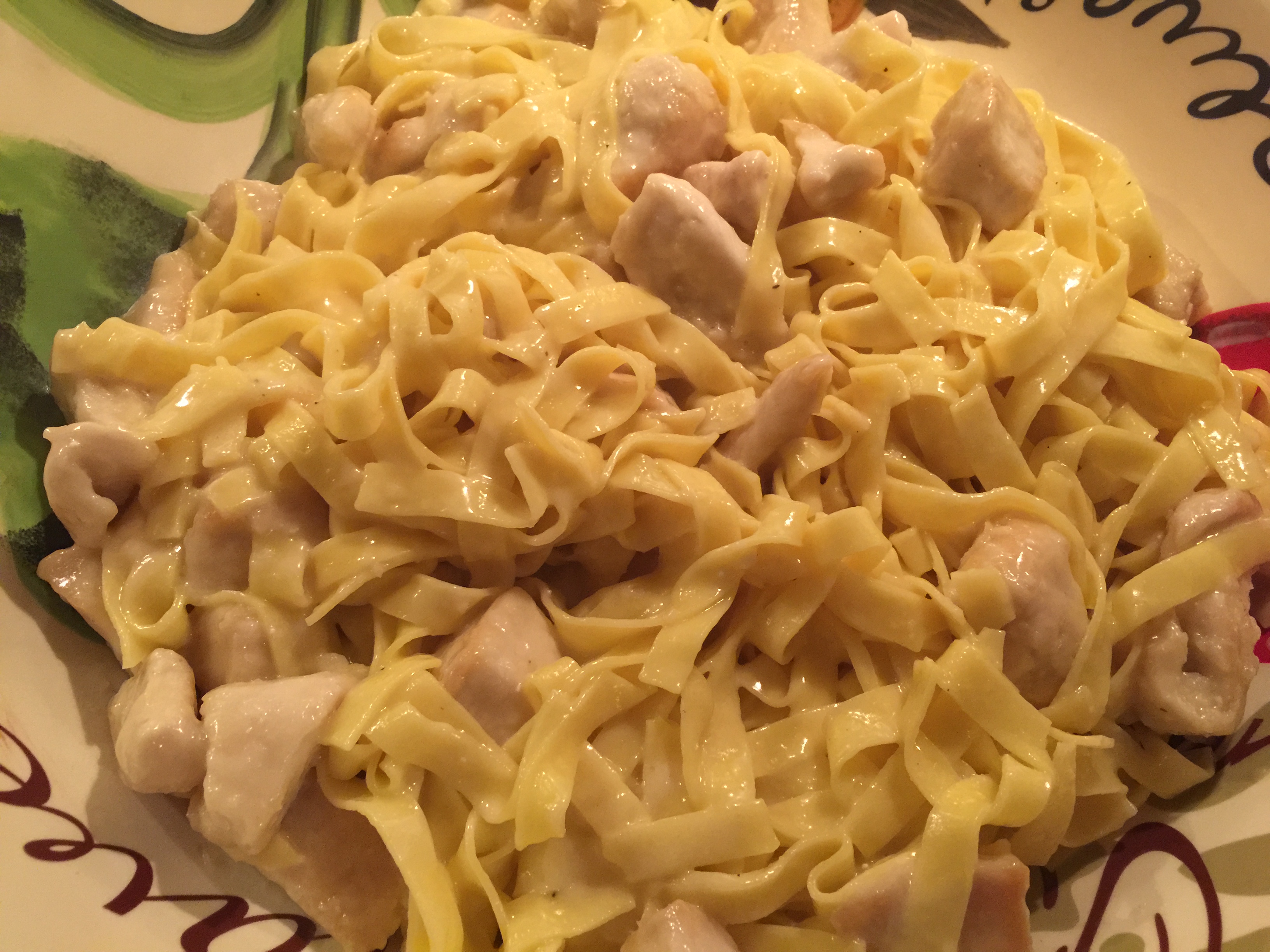 This is super fast and perfect for a weeknight.  To make it more nutritious and colorful, add in some cooked peas or broccoli florets.  Finally, I found a meal that all 3 kids will eat!
Ingredients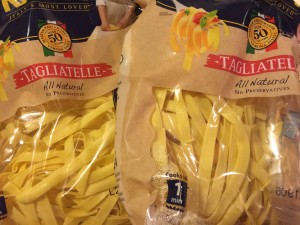 1 1/2 cup fresh Parmesan Reggiano
1 package of boneless, skinless chicken breasts
1/2 cup Wondra flour
2 tbsp olive oil
2 packages of fresh tagliatelle pasta
1 stick of butter (I know, I never promised you a thin waistline)
Salt and pepper to taste
Grate the cheese and put aside for later, things move very fast in this recipe so you want to have it ready to go! Rinse the chicken breasts, then pat dry and trim off the fat.  Shake some salt on both sides of the chicken and cut into bite sized pieces.  Put medium-high heat under the olive oil in a large skillet, and start heating water in a pasta pot.  Put Wondra flour in a 1 gallon sized Ziploc bag.  Add the chicken pieces to the flour and shake to coat on all sides.
Tip:  Gallon sized zip lock bags are very useful in the kitchen.  I use them to marinate meats by pouring in my marinade ingredients, then add my meat and mix it around.  I use them to freeze cookies and pieces of bread and as in this recipe, they make a great vessel to coat chicken in flour!
Once the pasta water is boiling, add enough salt so that the water would taste like sea water, about 1 tbsp or 2 (Thank you Food Network for the advice!)
Brown the chicken pieces on both sides over medium-high heat in the skillet of oil.  Don't turn them until the first side is browned (about 3-4 minutes on the first side, then 2-3 on the second side.)  Reserve.
The pasta only cooks for 1 minute, then quickly drain.  Put 1 cup of the pasta water into a large Dutch oven or regular pot and heat on medium flame.  Add in the butter and 1 cup of the cheese, whisking while the butter melts.  
To melt the butter and create the sauce only takes a couple of minutes!  Dump in the pasta and chicken, stirring well and heating through for 2 more minutes.  Ready to serve, just sprinkle in the rest of the cheese, shake in about half tsp of pepper and salt (then taste for seasoning and add more as needed) and pour into a large serving dish.
Serve with a nice salad or some fresh fruit, maybe be diplomatic and serve some broccoli on the side instead of in the pasta