Fresh Fruit Cup:
Talk about easy!  Every weekend in the summer I get fresh, ripe produce and just cut it up small and toss it together.  I squeeze half of an orange over all the cut fruit to keep the apple flesh white and I sprinkle in a little sugar for some surprise sweetness in case any of the fruit is not completely ripe.  I also serve a fruit cup every Thanksgiving at the beginning of the meal.  All year round I  will make fruit cups, depending on what fruits are in season or available.
Fruit cup tastes fantastic and lasts a couple of days in the fridge.
Tip:  Sometimes the pears don't hold up well, so I leave them off of this recipe, and will also leave out the bananas if they are very ripe or they tend to get mushy, quick!
Ingredients
Colorful fruit that your family loves, cubed in small chunks.
I use:
Handful of green and purple grapes (sliced in half for the little kiddies)
3 Fuji apples cut in small cubes
Handful of blueberries
sliced firm banana
If we have cut melon, I will also add some of that – always make sure it is very ripe (usually pineapple, cantaloupe or watermelon)
Squeeze half an orange and cut up the other half into the salad
1 tsp of sugar stirred into the mix
After you stir the salad, add sliced strawberries and handful of raspberries tossed on top (they are too delicate to mix in with the sugar and orange)
Add some slices of kiwi on top for color!
For Thanksgiving this year I used a glass trifle bowl to display the fruit, and layered the raspberries and bananas on top after I mixed in the sugar and orange juice, since they are less hardy, so would break down too much with the orange juice.
Creamy Fruit Cup:
To shake things up I recently added in some "sauce" and as is usually the case, some of my family loved it, others did not (usually things get mixed reviews in my house).
Whisk together:
Half a cup of greek yogurt, quarter cup of sour cream, splash of vanilla,  two shakes of cinnamon and honey (about 1 tablespoon).
Stir it into the fruit cup and hope your children have an open mind!
Apples, a million ways:
OK, not a million ways, but once I took the kid's apple picking and came home with a huge bag of apples, I went to town and developed these recipes (click on each to get directly to the recipe):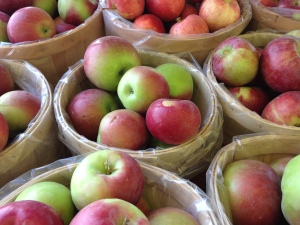 Grandma's Applesauce cake
Oranges!
If you have taken a little journey around my site you will find that I use orange zest and fresh squeezed juice in everything!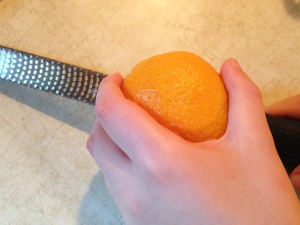 Marinades, apple pie, chocolate cookies, turkey, you name it.  Everything goes better with a bit of orange, I buy 3 a week and no one even eats them whole so you know I am cooking/baking with them a lot.
Berry Salad:
Another no brainer!  Just cut up about 8 strawberries and add to a bowl with half cup each blueberries, blackberries and raspberries.  Squeeze half an orange over the berries and cut up 6 fresh mint leaves and stir to combine.  Roll the mint leaves and cut thin ribbons. Taste the salad, if it is tart add 1 teaspoon of sugar and mix well.
I recommend adding homemade or store bought whipped cream to this, or pouring the berries over small shortcakes or slices of grilled pound cake slices.  Whatever it takes to get those anti-oxidants into the picky eaters!  This salad can be the base for a mixed berry crumble as well.
Trick:  Mint grows like a crazy weed with a horizontal root system, so if you only plant one mint plant you can have tons of mint all summer.  Seriously worth the investment (plant it in a pot if you don't want to have to cut it back all the time as it takes over the garden).  Great for cooking, baking, and adding to tea.
Fruit Shakes:
If there are particular fruits one or more of your children refuse to eat – that is where shakes come into play!  I have 2 of my 3 kids refusing to eat bananas so I put them in all of our shakes.  I also find that melons and pineapples do not always go down well diced, but are great in shakes.  Blueberries are especially good in a shake, but they make little blue dots in the glasses that the dishwasher doesn't always get out, just hand rinse the glasses well after a blueberry shake!
Tips:  When you cut a large pineapple or melon, keep some squares in an airtight zip loc bag in the freezer for future shakes.  Great in a tropical shake!  
Savings Secret:  When blueberries are cheap and in season, buy extra, clean them and dry them out in the refrigerator uncovered for an hour then bag them in gallon zip locs for future shakes.
Fruit sauces can be poured over pancakes, waffles, ice cream or even drizzled on cake!
Yogurt parfaits are a fun way to dress up seasonal fruit.