Over the weekend I was staring down a basket with 3 bags of shallots in it, and wondering how to use them up before they went bad.  I of course made my chicken Marsala which is a great use of shallots, but still had a couple bags left.  Then, I decided to make a skillet chicken and added in the pan some whole shallots which browned as the chicken finished cooking.  They came out sweet and yummy, and added some flavor to the pan for a pan gravy.  This is a hearty meal for a cold winter night.  We all enjoyed this dish so much, I will be making it again soon.  Every week I make something with chicken, and I like to mix it up so it's not too boring or predictable.
Ingredients
5 Yukon gold potatoes
2 1/2 pounds split chicken breasts
Tip:  Many people prefer chicken thighs, I just like white meat better and have since I was a kid.  Thighs could work really just as well with this dish if you prefer them, they can be even more moist and flavorful (or so I am told)..
Salt and pepper
2 tbsp garlic butter
Drizzles of olive oil
2 stalks of fresh rosemary
If making a pan sauce:  1/2 cup white wine, juice of one lemon and splash of cream or some Wondra flour to thicken
Pour cold water into a large pot.  Rinse and scrub the potatoes, cut into large chunks, then them into the cold water for a few minutes while you clean and peel your shallots.  Turn the potato pot on high heat.  Once the water starts to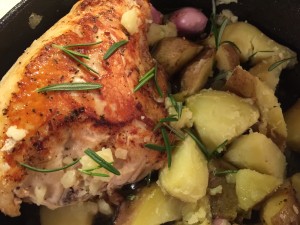 boil, salt it then set a time for 10 minutes and turn the heat down to medium high and boil without a lid.  After the ten minutes strain out the water and dump the potatoes onto paper towels and dab them dry.  I was a little worried that the potatoes came out pretty soft, but in the end they browned beautifully in the oven and tasted fantastic because of the soft inside and crunchy outside.
While the potatoes are cooking, rinse and pat dry the chicken breasts.  Salt and pepper the chicken breasts on both sides.  Take some softened garlic butter and rub on the tops of both breasts.  Heat a swirl of olive oil in the bottom of a cast iron pan, a Dutch oven or other large pan (avoid non stick) and warm the oil.  Put the breasts into the hot pan skin side down and heat on medium high flame.  Keep them heating until they are browned (usually takes 3-5 minutes).
Preheat the oven to 400 degrees.  Flip the chicken over and add the shallots and the potatoes into the pan.  Pull some rosemary leaves off and toss all over the chicken and the potaoes and shallots, then place a whole stem in there too.  Drizzle the olive oil over and season the potatoes and shallots with salt and pepper, then put the whole thing in the preheated oven.
Check the chicken 10 minutes in with a thermometer, and flip the potatoes and shallots with a spatula so they can brown on both sides.  Cook for another 10 minutes and check the temperature again and it will probably be good.  Don't overcook or you can dry it out, but it is not safe to eat until internal temp is 165 degrees.  If you are not ready for dinner you can keep the pan in the oven on a low temp (250 degrees) until ready to serve.  
Remove the pan from the oven, put the potatoes on a serving plate with the chicken, they should be soft in the center and crunchy and browned on the outside.  Remove any large pieces of Rosemary.  If not making gravy, then also put the shallots on the serving plate and drizzle all with the drippings.
If making pan gravy pour the wine and the lemon juice in the pan and boil for 4-5 minutes until the alcohol burns off and reduces by half.  Add in a splash of heavy cream or if you'd rather thicken with Wondra flour, then add in some ice cubes to cool down the liquid and shake in 3 or 4 shakes of the flour, whisk and heat for another 3 or 4 minutes.  Pour through a mesh sieve and reserve the shallots in a bowl to serve with the meal and serve the gravy in a gravy boat.  We had this meal without the sauce and it was still amazing, so you are good either way.
Best served with baby peas or broccoli or glazed carrots and a nice loaf of garlic bread since you already have garlic butter!