What to do when you have a packet of boneless skinless chicken breasts in the house and have run out of ideas?  Get creative and see what you have that's fresh.  the other night I found myself with this dilemna.  I had lots of fruits in the house so I decided to do a modified version of my creamy shrimp over linguine but with chicken.  It came out delicious, I would definitely make this one again.
Ingredients
Boneless chicken breasts
(for a family of 5 I would use 2 packets or a little more than 2 lbs.)
1-2 tbsp butter
1 tbsp Cano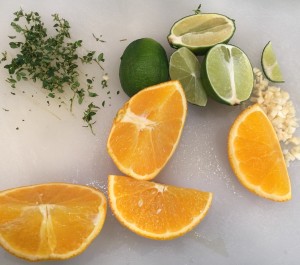 la oil
2 oranges
2 limes
1 tbsp fresh thyme (or tsp of dried thyme)
2 cloves garlic, minced
1 cup of white wine or chicken stock
1/2 cup heavy cream
Clean, trim and dry the chicken breasts and sprinkle with salt and pepper on both sides lightly.  If they are very thick I either use a meat mallet or pan to pound them to an even thinnest which tenderizes them; or, I cut them lengthwise, doubling the amount of breasts.  Zest the oranges and limes (which will give the sauce extra flavor), then squeeze the juice into a small bowl with the zest, and set aside.  Peel and mince the garlic and put aside, get out the wine and/or stock and the heavy cream.  If everything is out and ready to go before you heat the pan, the whole event will be much easier.
Heat the butter and oil in a large pan (butter for flavor, oil to keep the butter from burning).
Tip:  Although you can use a non stick pan, it is better to use a Dutch oven, regular pan or cast iron pan – these work better as they allow the creation of brown bits to form that later make the sauce more tasty.
Brown the chicken breasts on both sides over medium high heat.  If you need to, do this in two batches so you avoid overcrowding the pan.  You can just put the first batch on a plate to rest while you cook the second batch.  Put all of the chicken on a plate to rest.  Add the minced garlic to the hot pan (with another tbsp butter if the pan is dry) and cook for 2 minutes.  Add in the wine or stock and sprinkle 1 tsp salt (unless your stock has salt, then you have to taste before seasoning) and a couple of sprinkles of pepper and heat for 3-4 minutes.  Clean off the brown bits from the pan with a rubber spatula, while cooking out the alcohol.  Return the chicken to the pan, add in the zest and juice, and continue to cook for another 2 minutes.  Finish by pouring in the cream, sprinkling in the thyme and warming 2 more minutes, then serve.
Best accompanied with rice and a side of beans and carrots