My favorite place to go in December is NYC, where it is impossible not to soak up holiday spirit this time of year.  We walk around holiday markets, attend a show, and when not too crowded, visit the tree at Rockefeller Center (is it ever not too crowded?) or see the department store windows decorated for the season.  I love the city, and it makes Christmas more magical for me.  For my husband, not so much.  He allows thoughts of traffic, tolls, parking hassles and the cold weather, drown out any chance of sugar plums dancing in his head.
Since my birthday is in December, I put all the force of major birthday guilt on him each year, to convince him to drive the family to NYC as a special birthday "favor".  So far it has worked every year!  This year we started with the holiday shops at Bryant Park, and then attended a show at the Metropolitan Museum of Art.  Just believe, and even the Grinch will find the holiday spirit in the city!
Before we went to the show, we had a nice food adventure  at Bryant Park.  The holiday shops are open from the end of October to the beginning of January each year (2014 it goes through January 4th), and some shops are open year round. Bryant Park is located right behind the Public Library at Sixth Ave and 42nd Street, and there are over 100 boutiques.
There is a public skating rink at the park as well.  We have only ever watched the action – but it is fun enough to enjoy the skaters as they glide around in front of the Christmas tree.
I was fascinated to find out that there is a reading area that was first started in August of 1935 in response to the Great Depressions, enabling people to read borrowed books without having IDs, right there in the park.  It closed in 1944 due to the increase in jobs due to the second World War.  Bryant Park reopened the reading room in 2003, and it has been open ever since depending on the generosity of corporate sponsorship.  What a wonderful idea!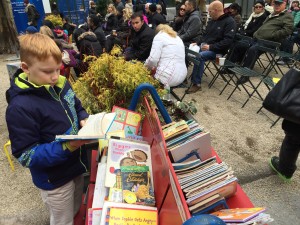 There are also events, and the day we were there we got to see an outdoor magic show that the children loved right by the reading area (and the kids were able to participate in the show too).
One interesting booth we visited was "Surya Brasil".  Their mission is to "passionately create the best quality natural, organic and vegan
hair, body and lifestyle products that promote beauty, health and
well being while bringing forward action that benefits society,
animals and the environment."   A tall order, I give them credit.  It is good to know there are companies out there with such a strong sense of conscience, see more here:  Surya Brasil.
A very colorful shop I found this year was Infinity Lights (see photo at the top of this page for their beautiful products).   Those are the colors of a happy, festive season if I have ever seen them!  Click on their name if you want to learn more about the product.  They are actually quite reasonably priced and make a striking display.
I found yet another great way to eat chocolate spread, at the booth for chimney cakes.  Hollowed out pretzels smeared with chocolate or peanut butter spreads inside, what a cool idea.  From my research I have found that chimney cakes are a traditional Hungarian pastry, possibly originating in Transylvania and original name was Kürtőskalács.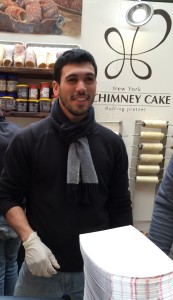 Next to chimney cakes there is a gluten free soup shop "Soup for the the Soul" run by the same owner.  The mushroom soup looked amazing.
Similar to my trip to Philadelphia's Reading Terminal, I found that grilled cheese is the best way to go on a cold day.  I had the most amazing sandwich and San Marzano tomato soup, with an comforting IPA from right around the corner, both owned by 'Wich Craft Grilled Cheese.
They offered cheddar, mozzarella and tomato or Swiss and caramelized onion sandwiches.  All hit the spot, but I am a sucker for caramelized onions!
There was also some amazing homemade chocolate from Raaka, in unique flavors (and completely vegan if that interests you).  I just love flavor, and Raaka had some amazing flavors.  My favorites were the coconut milk and tea infused chocolates.  The booth offered samples and showed the kids what an actual chocolate bean looks like (see below).
I am glad to have found another interesting small business in Brooklyn, NY.  I feel a food adventure in my future to learn more.  Raaka even gives factory tours, so I am definitely going!
While Mommy checked out the booths, the kids found a new sport, pigeon chasing at the park!  They also ran into an author on the steps of the library and bought an author signed book, what a fun time they had with Daddy.
I loved perusing the many jewelry shops while the kids kept Daddy occupied, but one that stood out was Donna C Designs.  See her on Facebook under Donna C Designs.  I bought myself a little something (don't forget to keep yourself on your gift list, who knows what you like better than you?)
Also, just loved the Wrecords by Monkey.  At this booth everything was made with reclaimed drecords, see their webiste by clicking here:  Wrecords by Monkey.
What a great way to recycle!
I also was very intrigued by Mini Clocks, by Yunka International.  More information click here:  Mini Clocks.
Before we made our way to the show, we grabbed a few donuts at "Carpe Donut", and some liquid chocolate for dunking.  Some of the best fresh donuts we have ever had.  Check them out:  Carpe Donut.
This year we opted for a shorter show at the Metropolitan Museum of Art, which was entertaining and educational for my kids, who are all involved in music at school:  A Pocket Nutcracker.  We really enjoyed it!  There were 5 people each playing an instrument:  A bassoon, flute, clarinet, oboe and French horn.  They taught us about the instruments, played global folk songs, and even wore costumes to perform parts of the nutcracker.  They were standing or dancing the entire time, and never used any music.
This show was less of an investment than we have made in past years when we saw The Christmas Spectacular or The Lion King for instance, but just as enjoyable.  The tickets were $30 each and included your pass into the museum as well.  Check out their list of shows, you may find one you will enjoy.  I highly recommend a show at this museum.  We also enjoyed seeing the huge Christmas tree with carved angels, "Christmas Tree and Neapolitan Baroque Creche" which is a tradition in New York and on display end of November through early January.
All three kids enjoyed the exhibit of armor.  The museum closed that day (a Sunday) at 5:30, so we headed back over the bridge with full bellies and our minds filled with holiday memories.
My holiday wish for you and yours is to chase some pigeons for yourself, eat too many donuts, feel regal and Believe!