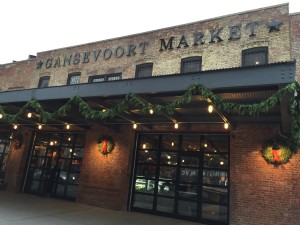 A dear friend took me on a day of food adventures that started with Arthur Ave., and ended with a visit to Gansevoort Market, located in the Meatpacking District of Manhattan.  This area of the city runs from West 14th Street south to Gansevoort Street, and from the Hudson River east to Hudson Street.  The market is located at 52 Ganesvoort St. between Greenwich & Washington.
I really enjoyed this food market, which was filled with delicious unique eats.  What first grabs your attention in this large indoor market (which is open air during the milder weather) are the lovely vines and decorations done by "Flower Girl, NYC".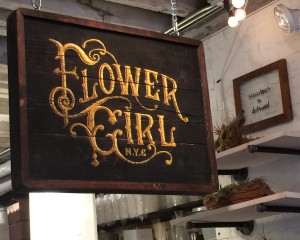 Everywhere you look you will see pretty finishing touches that make the market warm and inviting.  Flower Girl has a booth in the market as well, click flowergirlnyc.com for more info.  I would be thrilled to receive one of owner Denise Porcaro's sophisticated, yet edgy arrangements.
My first stop was to try some tea at Lov-Organic tea's booth.  I sampled some of their Rooibos tea varieties, which were good, however, I was missing the sugar.  Not being a purest, I can admit that tea without sugar or honey is not MY cup of tea.  What I loved was  that the Rooibos variety is good for digestion and to help with sleep – two things I like to keep in check.  And of course they are naturally caffeine free which I like (I am naturally caffeinated, no need to add anymore to my system).  I bought a canister of the Vanilla Rooibos tea, took it home, added some sugar and it was amazing.  The whole family enjoys it with me each night.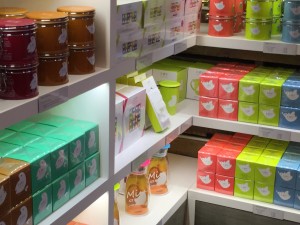 According to their website (love-organics.com) this tea comes from a South African shrub's leaves.  Lov Organic Teas are a nice quality organic product in striking packaging, reminiscent of a Scandinavian aesthetic.  Definitely worth a try, if you enjoy a nice cup of calming tea, sweet or plain!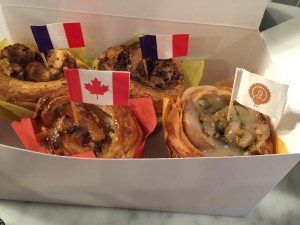 My favorite Food at the Market was hands down, the Bruffin!  These are an amazing new creation that must be experienced, my description won't do it justice.  But I'll give it a go anyway, these are little meals within a muffin from different countries around the globe, with amazing savory or sweet flavor combinations.  I tried the French bruffin that included lardons, brie and Gruyere cheeses.  I also tried the holiday muffin, a seasonal variety made with turkey, stuffing, cranberries and gravy, oh my!  What a taste explosion, and my husband's favorite.
Another interesting flavor combination was the Canadian one, made with Canadian bacon, cheddar cheese and a bit of maple syrup poured on top. There were many more and each had a cute little flag so you knew where the experience was supposed to transport you. The dough is much closer to a crispy, buttery croissant, than a typical doughy muffin.  Really, a must try, I promise you will thank me!  For a list of all flavor combos click here for their guide:  thebruffin.com.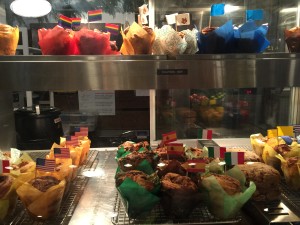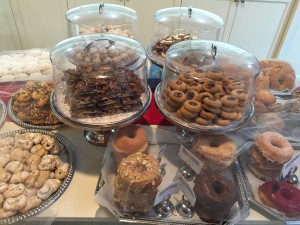 Ernie Cappone, is an owner of Cappone's Salumeria of Italian specialties, as well as the adjacent bakery and Greek yogurt stand which I enjoyed.   I had a lovely chocolate cookie sample and a taste of genuine Greek yogurt with a bit of sour cherry from the bakery and yogurt stand.  The richness of the yogurt was so different from those plastic cups you buy at the store, I would go back for more (info on Cappone's see them on Facebook under Cappone's Salumeria).
Since I attended the market before the holidays, I was treated to an amazing intricate nativity village at the Cappone's deli stand, it was a lovely expression of the holiday season.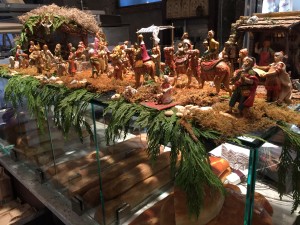 The best part of this food market, there really is something for everyone, I just couldn't try it all, I am only one girl!  Luzzo's pizza offers a variety of pies, Cafe el Presidente is a VW van where you can purchase tacos, there is a stand of Middle Eastern cuisine, and another called Organic Gemini which offers healthy, raw, vegan drinks and flours.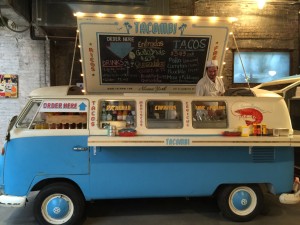 Lastly, the Pig Guy NYC specializes in pork, if that's your thing, and it is one of mine, so that I made some room to try!  When it comes to pork, I find a way to fit in a sample, so I can give you a review of their food.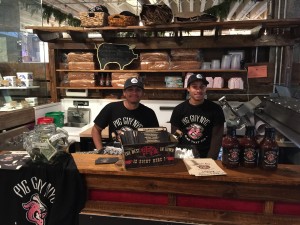 I typically hate anything with that sticky sweet barbecue sauce on it, but I loved the Pig Guy NYC's pulled pork and their brisket.  Both are served with a Thai chili bbq sauce that was nice.  Lots of love for the Pig Guy, they were friendly and the food was tasty (pigguynyc.com).
I plan to go back to this market once the Spring weather turns warm, I bet it is a different experience with the open effect and the general excitement in the air after a long cold winter.  I have read that Luzzo's pizzeria has a Pizza truck including a pizza oven parked outside, which would be cool to see for the kids.
If only I had more time and an extra stomach I could have tried it all, but after a morning in Little Italy Bronx, I didn't have much room for more goodies (the Brufgins came home with me and provided our dinner that night, no complaints from the family!)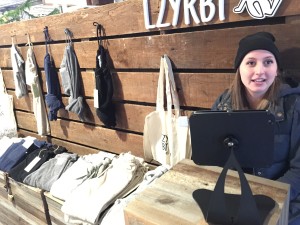 In case you do overindulge, like I did that day, I noticed some soft comfy sweat pants for sale on my way out, I bet they would accommodate an expanding belly!  They looked and felt super comfortable, I was tempted to buy a pair.   Check them out at www.lzyrbt.com,  (you can feel good that the products are made in the USA on top of being soft and comfortable.)
If ever you are hungry in Manhattan, I obviously recommend that you check out Ganesvoort Market.  It is a foodies fun spot, nestled in an interesting neighborhood good for exploring anytime of year.