With little time and energy to spare, busy Moms and Dads can still make fabulous home cooked meals, they just need some help and a bit of planning. Fresh ingredients, passion and teamwork can produce delicious results in no time.  Sharing their creations around the dinner table, can instill confidence and pride in our kids, while the joy of a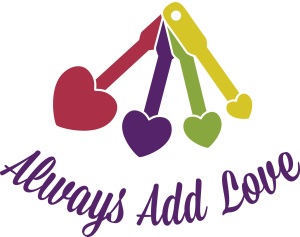 good meal can open our hearts and minds to conversations on topics both serious and silly.
Cooking and eating traditional meals, passed down from generations, can help our kids connect to their heritage, and better understand where they come from.  Coming out of a big Northeastern snowy winter, we all look forward to cooking outdoors more often, using tomatoes and herbs we grow ourselves while inventing new dishes for our family to enjoy.
Encouraging kids to invent new meals and participate in developing new traditions, is the catalyst for building memories together.  It doesn't matter what ingredients you use, as long as you remember to add love, you will do fine!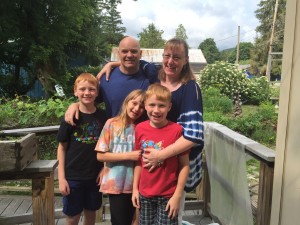 If you were wondering about what to stock in your pantry, however,  check out busy mom pantry items.  If your kids, like my kids, are picky eaters, check out my tips on getting kids to eat veggies, salads and fruits.  Please share your secrets for winning battles with picky eaters in the comments section, I would love to learn some new tricks!
Why bother cooking and baking from scratch?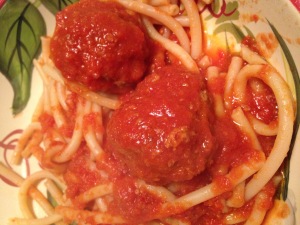 It is a great way to play together in the kitchen!
What says "I love you" better than a bowl full of spaghetti and meatballs?
It saves money, (have you eaten out lately?)
So you know exactly what is going into your children's bodies.
Using food to connect our kids to their roots, is the icing on the cake.  When we lost my grandparents, one by one I was devastated.  To this day I miss them mall, but feel fortunate that I did have time with all four grandparents.  One thing that connects me to the memories I have of my grandparents are food memories.
It was very sad to me that my maternal grandmother did't have recipes written down anywhere, so we are not able to duplicate some of her creation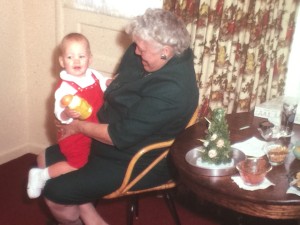 s.  It is down to each generation to do their best to keep the recipes passing down to future generations.  This photo to the right is of my maternal Grandma and me as a baby.  You will see to the right of us a small Christmas tree looking item with shrimp on it.  As my Mom explained, they would take a Styrofoam form, color it green, and stick shrimp into it with toothpicks.  Functional and quirky, love it!  Things like shrimp Christmas trees can remind us of lovely holidays gone by and of the wonderful people that we miss.
Check out my Grandma's apple sauce cake, it is the one recipe I have included in this blog especially for her – I used a recipe that was found in the papers of my great aunt which I believe was the same cake she made.  It is close enough to brings me back to memories of swinging on the hammock under the big trees in her backyard as a kid, dreaming my little girl daydreams and feeling loved in the way only a Grandma can make you feel loved, unconditionally.  How can you keep up traditions in your home and continue to share the love?
Wishing you joyful meals and special memories!
Deidre