I am the first to admit, it is NOT easy getting my kids to eat their vegetables! I was a picky kid, and now my kids are picky kids. My mother warned me someday I would have to suffer the same trials and tribulations she had suffered, and boy was she right (don't you hate that?)  Here are some of her tricks, and others I picked up along the way to get kids picky and adventurous alike, to eat vegetables:
Marketing matters
Doing a hard sales pitch doesn't work, kids are too smart for that, even little ones.  It may help to convey your healthy attitude towards veggies to show some enthusiasm, but kids don't respond well to the obvious hard sell.  You need to be more nuanced, by employing marketing techniques.  This will only work in the early years (toddler, pre-K) but some examples of my mom's naming techniques that worked on me as a kid, when I only wanted to eat meat:  She referred to cooked carrots as "meat carrots" and eggplant Parmesan as "pizza meat".   Tricky ma, and it worked!
Kids judge a book by its cover
As your kids hit grammar school, they will start developing quite a lot of opinions, and marketing is out the window!  It is now time to dig deep and transform the vegetables.
Plain beans, boring, sauteed in olive oil and shallots or almonds and butter seem more gourmet; boiled carrots, yuck, candied carrots, yum.  Peas alone, awful, with a little bacon and onion, amazing.  Breaded cauliflower goes down better than steamed…you get the idea!  I have provided all of these recipes just click on the descriptions in green.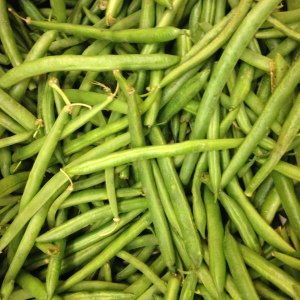 Try some colorful veggies like yellow wax beans, or purple cauliflower or the green ones we used to call broca-flower! Cut up raw yellow, red or orange peppers in a salad, cook them on the grill or saute them in some olive oil.   Lots of times kids actually prefer raw vegetables, so that is a place to start if you haven't tried that.  Kids tend to appreciate the fresh flavor and crispness of raw vegetables, it can be more approachable to some, while others would rather you cook them and add some other flavors.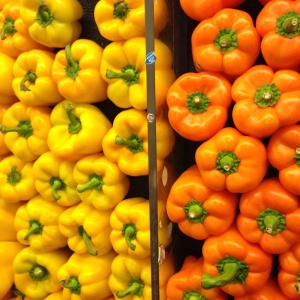 Freedom of Choice
My house rule is you have to eat at least one vegetable with dinner (salad counts, veggies in soups and sauces count too). I learned from my Aunt Joyce to offer 2 vegetable options, allowing them some power in the equation.  I take it a step further, and allow the kids to choose from the 2 options or go to the fridge and grab some baby carrots. For some reason baby carrots are a fan favorite in my house and the perfect "Plan B".
You don't want to sweat the small stuff, making meal times filled with fights, so let them pick their path to a healthy balanced diet.  I know what you're thinking, how does anyone have time to make extra side dishes?  I actually make a few veggies on a Sunday for the week waiting to be rewarmed during the week, and there are very quick options like frozen baby peas you can whip up in minutes in a bind.
Be clever not sneaky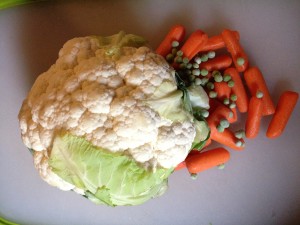 I don't hide vegetables inside dishes, but I do add them to sauces like meat sauce, stews and soups like tortellini soup, and openly let the kids know I am doing it.  If the vegetables are some kind of covert activity, you are not teaching them life lessons in eating.  I do chop onions and shallots small when adding to omelets and sauces like penne vodka
and my weekend sauce, but I never try to hide that they are in there.  I teach the kids that caramelized onions add sweetness, so they know that they can ramp up the flavor of a dish by adding healthy components.
Think outside of the box
My eldest son and I started shopping together when he was like 4 years old (before that it was more of a situation where I was shopping and he was just annoying me while the twins just pretty much screamed and squirmed).  To make it interesting I would let him pick 1 "fruit of the week" and/or 1 "vegetable of the week" at each of our grocery outings.  The only rule was it had to be something we never bought before.  It was hit or miss, but it forced me to find new recipes all the time, and keep our diets colorful and healthy.  HIs favorite find was multi-colored small potatoes which inspired his dish "patriotic potatoes" in the Kids Corner, and a favorite fruit find was star fruit for the cool shape of it!
If you try a new vegetable recipe every once and a while, some will work out so well that you will add them to regular rotation year round!  I don't remember how or when I started mashing butternut squash with syrup and pumpkin spices, but it probably was a 'vegetable of the week' that baffled me.  Now smashed butternut squash is a house favorite.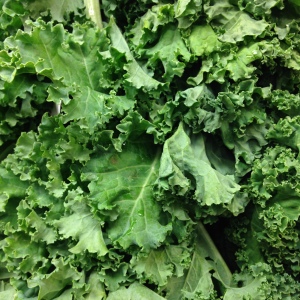 I also found a way to make sweet potatoes into a dessert and to make acorn squash into a pretty little dish that the kids will eat, on the trips we chose those items.  Lastly, my work friend Julianna taught me how to take Kale and turn it into a chip, so one week I chose kale as the veggie for the week.
Take the kids to the food…the farm, the farmer's market, the orchard for apple picking, etc.  Let them grow herbs and tomatoes and be part of the process for growing and preparing the vegetables.  You are less likely to stick your nose in the air when offered food, if you were a part of the process of gathering and preparing it from the start, it gives the kids some ownership!
What are your best secrets for getting kids to eat their veggies, we would all love to hear!