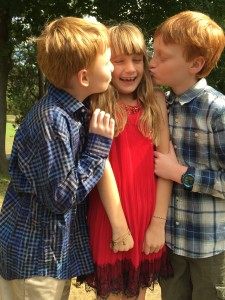 I am a busy Mom juggling 3 kids, a job, a husband, and a home.  In typical mom fashion, I am always slightly guilty, and wish there were a few more hours in each day, or maybe I could clone myself?
With all the competing priorities in my life, I still believe in feeding my kids healthy foods, and building fun family memories, while keeping food traditions alive.  Cooking and baking with the kids can keep the kids out of trouble and off of the IPads as an added bonus!  It has been a long time dream of mine to create this site and share my family's recipes, and passion for feeding the family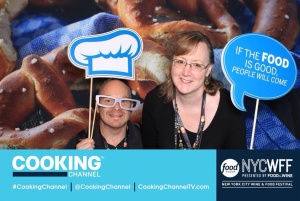 healthy, yummy meals.  It brings together my passions for photography, writing, food and family.  Emotionally, the catalyst was when years ago, no one could find my grandma's applesauce cake recipe, so I wanted to make sure other recipes didn't get lost so I started typing them up into a document which is now the basis for this site.
Recently, a family member found the recipe in my great aunt's paperwork, but as you will read in that post, no one can agree if that is the same recipe or how to top the cake.  I am adding new recipes often to this site, including the Grandma's applesauce cake, to preserve my mom's, mother-in-law's, aunt's and sister's creations (as well as my own of course) for generations to come – before our memories get fuzzy,
I am also super excited to build a community where we can share our recipes, experiences, tips and secrets across families.   That is my husband and I at the NYC Wine & Food Festival where I had a blast, in October 2014, mingling with other happy foodies!  That is a place the reminded me where I am happiest – in the world of food, and has inspired the section of 'Food Adventures' .  We went again in 2015, see article, and had another grand adventure together!  This year I had a copy of my very own cookbook!
It is a gift to our kids to invite them into the kitchen with us, letting them experiment and get their hands dirty, whisk, lick the beaters and have that first meatball from the pot (with 3 kids I admit, I tend to have one helper at a time to avoid full on anarchy).   Your patience exerted when inviting toddlers and preschoolers into the kitchen to whisk and stir (and make messes), will be rewarded once they hit grammar school and can really help out!  My eldest is able now to make homemade cookie dough from scratch all on his own, and the twins actually fight over who makes the family breakfast some weekends.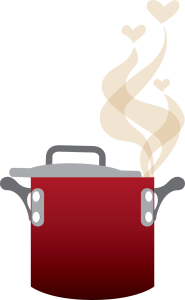 It is hard enough to get picky eaters to eat veggies, fruits or salads, but if they are part of the creation of a meal, they tend to want to partake in that meal with more enthusiasm!  If they picked the apples or trimmed the herbs, thought up the flavor combination or even just helped stir…they have some ownership to the end product.  It can be fun to take them to the farm or grow food with them in little herb pots or gardens, helping them connect to where the finished products come from.  It all fits into my devilish plan to guide them towards healthier eating habits that will last a lifetime.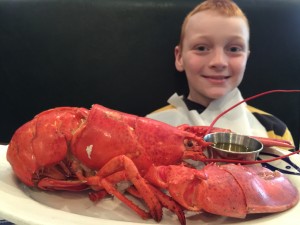 Just as important to me as the educational opportunities inherent when cooking with the family, is the fun factor.  I teach my kids that everyday is a gift, and I want to make our days together as a family special.  Why not pick a random weekday, cook up some lovely Italian food together (maybe a 20 minute sauce or penne vodka), light some candles and pour some fancy juice for the kids and wine for the adults…play music and invite the kids to take a dance break in the middle of the meal as entertainment!  These are the special times the kids will remember for years to come, the ordinary Thursday evening that became Italian dance party (can't get away with that at your local Applebee's).
Do you have any dinner traditions or special ways of celebrating at your family meals?  Have any special recipes for parties or family night you would like to share?  I would love to hear from you and help you keep your family traditions and recipes alive!  Share your ideas in the comments section at the bottom of every page.
Don't forget to always add love,
Deidre