This isn't so much of a recipe as a discovery!  Recently I went to Kings supermarket (don't tell my husband, that store is very pricey!) and found these cool little pastas.  They are like small little purses stuffed with Parmigiano reggiano.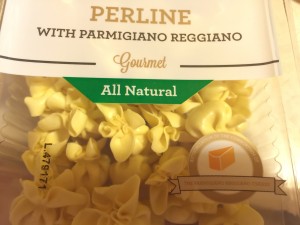 I served them with my weekend sauce, but it would taste great with vodka sauce or quick 20 minute sauce as well.  They cook so fast, just boil the water and then cook for 3 minutes, perfect for a weekday.  Two boxes made enough to feed the family, just supplemented with some garlic toast and raw baby carrots.
Look in your grocery store for "Perline".  On the package they recommend a butter sauce, but I never like butter sauce on pasta, the tomato sauce was a nice a sweet compliment to the rich pasta.
Great served with garlic sticks or pizza muffins for a fun Italian dinner, add a healthy shake to round out the nutrition